Long-winded Christmas musings and observations in operating My Merry Christmas.
A Christmas Event
---
As I type this I have all six of my daughters bunched together in the upstairs bathroom in front of the mirror primping for tonight's big event -- David Archuleta and Michael York with the Mormon Tabernacle Choir and Orchestra on Temple Square's Annual Christmas concert. We'll be attending with about 30,000 other people -- 21k in the main hall and the rest in overflow venues around Temple Square.
This is not the first time we've attended this event. In fact, we're lucky to usually get to go each year. It doesn't matter who the guest artist is, though there seems to be a bigger deal about it this year because of a young pop star. But for us the stars of the show are really members of the Choir, a few of whom we know as neighbors.
But what makes this event special isn't really the event itself, though we love it. It is the fact that we get dressed up and we do it together. All the elements combine to make it festive -- there are lights, the music is superb world-class stuff, there will be great food and, without a doubt, it will be an evening filled with good humor. Here's a picture from last year: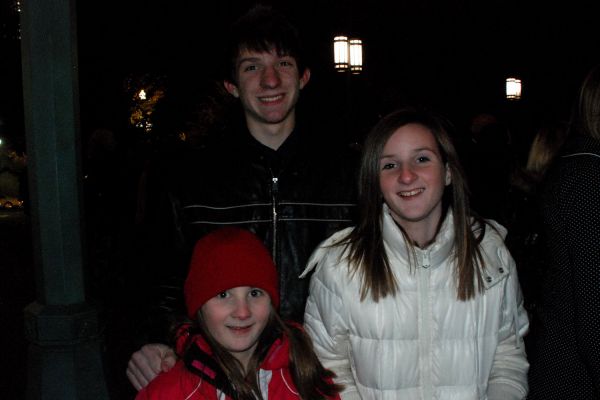 That's my son, Enoch (16); my daughter Maggie (13) and my youngest, Emma (8).
Last year it was bitter cold -- about 9 degrees, if I recall -- and it didn't matter. It's Christmas.
I'm not to sure how tonight will turn out when it comes to the event. But as I contemplate it now it is with a grateful heart.
My Dad will be bringing my Mom for tonight and I will be there at the curb to grab her wheelchair out of the back of the van to get her inside. It is a miracle to think Mom can do this again. In May she had a devastating stroke that took her personality away for several months. It was the most heartbreaking thing in my life ever to endure but months of therapy and a lot of work on her part have brought her almost completely back. She is not as strong as she used to be and she sometimes can't see things well, especially from the left side. But she's here and that alone is worthy of celebration.
She was like a little kid yesterday when I saw her. The purpose of my visit was to put together the details of tonight's event (we found tickets for them at the last minute) but also to deliver to her a package I had received for her at my house.
A couple of years ago I was partners with usafvet in the ornament exchange. He sent me a beautiful olive wood nativity ornament that my mother just loved when she saw it. I recall well her wonder at the idea of it all -- that a total stranger on the Internet would send something so meaningful to another stranger online.
Usafvet remembered that comment about my mom and this year found another olive wood nativity ornament -- and sent it to me to give to my mom.
When I got to her house yesterday and explained this to her and had her read the letter from usafvet's family the tears just rolled down her cheeks.
"I don't know if I've ever felt the wonderful feelings of Christmas as I do right now," Mom said.
And I wholeheartedly agree.
It has been a magical season for me. There have been plenty of moments of ponderous thoughts. There has been some loss and heartache.
But there has also been supreme moments of utter glory.
I'm sure we'll be talking about you tonight, usafvet and family. You are in our hearts -- and gratefully so.
Comments
Trackbacks