Long-winded Christmas musings and observations in operating My Merry Christmas.
Babies
---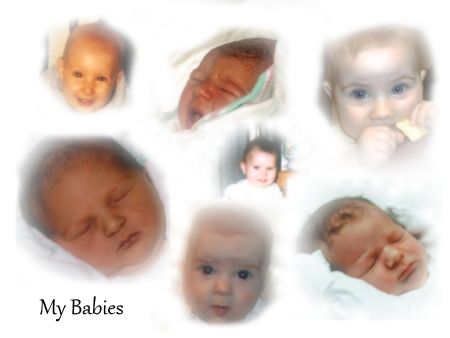 These have been thought provoking days. Since hearing the news of the shootings in Connecticut I have been so very unsettled and troubled in spirit. How can you not be?
We knew this would be a big Christmas weekend for us. We spent the day on Friday with my Mother, who has been in poor health for some time. Mom just wanted a little Christmas spirit in her home and wanted the air filled with the aroma of baking. So we set aside the afternoon to sit with her, me with the old photo albums while my wife set out to bake cranberry/orange bread and chocolate crinkle cookies.
My daughter Maggie turns 15 this weekend as well and it was her desire to spend the night with her big sister, who still lives in Salt Lake City. So we took her down there on our way to see my Mother.
We met up with these two precious daughters later tonight to enjoy one of the great traditions of Christmas we have loved since moving here years ago -- the annual Christmas concert of the Mormon Tabernacle Choir.
Normally such a weekend would be full of good cheer and Christmas Spirit. And it has been. But there has been an unshakeable sense of sadness since the horrible events of Friday in Connecticut.
I just cannot get the thought of those kids out of my head.
Everywhere I went and all that I did seemed to bring thoughts of them back home to me. As I looked over old photos with my Mom there I was with my siblings -- ages ago -- just kids doing the stuff that kids do. Normal pictures in every way though many of the images, like the eyes of my mother, are fading and old. I could not tell if her tears in looking at them were happy or sad. Those were just tears of a mother for her children.
That thought has haunted me in the last few days as I think of those mothers whose arms are empty now. My Mom has had me for 50 years and she has never stopped nor been denied the privilege of being my Mom. But somewhere in Connecticut tonight those sentiments are not true, at least not for them.
As Sandy baked in the kitchen with my ten year old niece -- whose father was taken from her five long years ago -- I could see the magic that making bread together alone in the kitchen can create between two women, though their ages differed greatly. In her eyes -- her child eyes -- I could see love and appreciation for the Christmas moment they were having together. But somewhere in Connecticut those moments are gone forever, a sad thought tempering my gratitude for our moment.
Tonight, as we headed for the concert we parked the car in a garage some several blocks away from the venue and hiked in lightly falling snow through Temple Square, typically ablaze with lights, as it is every Christmas. There were 21,000 of us headed for the seats to watch the event and hear the music but there were thousands more in downtown Salt Lake to see the lights and to shop.
City sidewalks, busy sidewalks, dressed in holiday style.
And around us were babies -- lots and lots of babies. It is an atmosphere made for parents and children to enjoy together. But as with everything else, a cloud came over everything as I thought of those families in Connecticut who would have no such Christmas this year.
I was relieved in a way to get inside the concert venue and sit in the darkness for a while. It seemed something of an escape. But as the crowd came in and the orchestra warmed up there was an energy there I cannot recall from previous events of this type.
I have attended these events nearly every year. I've talked about them many times before. They are always joyous and Spirit-filled events. The stuff of which great memories are made.
It was on that stage that I saw Gladys Knight turn the 300-voices of the Mormon Tabernacle Choir into a hand-clapping, swaying and rocking celebration of Christmas music.
It was on that stage that I saw Walter Cronkite, of all people, conduct the Hallelujah Chorus.
It was on that stage I heard Norwegian Soprano Sissel flawlessly soar above the choir and orchestra with such ease and artistry it took my breath away.
I saw Brian Stokes Mitchell on that stage and Peter Graves and David Archuleta and Angela Lansbury and others. I met Natalie Cole and David McCullough at this event in previous years.
And with each of these experiences I had all or at least some of my children with me. It has always been one of those great Christmas experiences we enjoyed together. Tonight, it was my wife with my 26-old eldest and my 15-year-old birthday girl with me.
But like me they were under the same cloud of sadness. In fact, one daughter leaned to me on our walk through the lights and asked, "Dad, is it ok that we're doing this?"
I knew what she meant. I felt it too. Of course, it was okay. But in a way it felt a little awkward to be doing something so happy in light of the sadness we all feel.
Not surprisingly, the concert opened with a recognition of the tragedy, a moment of silence, and as with every one of these Temple Square events, a prayer.
But this was no mere prayer, if there is indeed such a thing. I could feel that in the energy around us. I don't even know who the man was that prayed but he spoke for us all in pleading with Heavenly Father for understanding and hope. I heard sniffles around me and could sense that we were not alone in our sadness and grief.
And then the music began. Glorious, healing, teaching and loving music.
The guests of the Choir this year are tenor Alfie Boe and famed American journalist Tom Brokaw.
I had never heard of Alfie Boe. I read about him some after the announcement was made that he was coming and watched a few videos of his work on Youtube. As with all artists at these events it was clear before I heard him live that he's a world class talent.
Nevertheless I was unprepared for what happened next. The choir and orchestra opened with a processional, as they traditionally do, and then Boe was introduced. He joked with the audience for a moment before waving to the conductor and away the orchestra went.
What unfolded was the most unusual arrangement of Hark the Herald Angels Sing I have ever heard.
Hark the Herald is, of course, familiar to me. But it has never been my favorite by any stretch. But there was something in this arrangement and the power and presence of Boe's vocals. This was not mere singing. This was
worship
.
It set a powerful reminder for the entire event -- that God was somehow watching and was in some way away of the grief and the pain. And He has a solution.
But there was more. So very much more.
I cannot claim to being much of a fan of Tom Brokaw over the years. But I enjoy when they invite the likes of Brokaw or Cronkite or even a few years ago when Mike Wallace took to the stage with the choir. These guys are not performers in the sense that musicians or Tony-award winning Broadway stars like Boe are. They are used to staring into a camera and telling a story. But they make them stand on a stage during these Christmas concerts and in their announcer voices they narrate a music-backed story of Christmas.
It humanizes these usually packaged and stiff characters who allegedly convey unbiased reporting on the news. You see a side to them you never see on TV. And some -- actually most of them usually -- later read the 2nd Chapter of Luke as part of this event. To hear the name of Jesus Christ fall from their lips feels at once unnatural and wonderful at the same time.
Brokaw's contribution tonight was to tell the story familiar to anyone living in Utah of Colonel Gail Halvorsen, the Candy Bomber. We know this man's story because he's from here. He's one of us.
In 1948 Halvorson was stationed in Germany helping in the Berlin Air Lift, that famous effort of the Marshall Plan that brought food, medicine and aid to the staving millions of war-torn Europe, including a ravaged Germany. Internally, the military called the mission Operation Vittles.
One day while his plane was unloaded Halvorsen made his way to a group of children who were watching things from the other side of a barbed wire fence. Though they had a language barrier to overcome it was clear that they wanted from Halvorsen what many GIs were known for by the children of Europe -- candy and chocolate.
Halvorsen only had two sticks of gum so he divided them both and gave them to four of the children. They in turn divided them again and passed around the tiny bits of sweet, minty pleasure. Halvorsen was both amused and touched at the magic it represented to these kids, the momentary happiness it brought them and the gratitude they had for it. It got his wheels turning.
You may know the rest of the story. But in short, Col. Halvorsen organized an airlift of us own, hitting up his fellow GIs for their candy, chocolate and gum and attaching them to little handkerchief parachutes to deliver to the kids on their flights into Berlin. The effort came to be known as Operation Little Vittles and as word of what they were doing spread so too did generous donations come in for the kids. In time, more than 18 tons of candy were rounded up and dropped from planes for the kids of Europe -- and effort that began from just two sticks of gum.
What made Brokaw's telling of this familiar story so powerful tonight was the fact that Col. Halvorsen was there -- on stage -- with him. At age 92 a spry Halvorsen -- wearing the same flight suit he wore back in 1948 -- addressed the audience and pleaded that they not call him a hero. To him, a hero was one of his buddies he lost or was injured in the war. He told us that the children of Europe had taught him the true Spirit of Christmas and that his testimony of Jesus Christ had helped him come to love children as the precious jewels they are.
The story was simple, the point was clear and the moment for a grieving audience in attendance was redemptive.
As if to drive it all home...and to add even more magic to the event...suddenly from the ceiling of the venue little parachutes started to fall as treats of candy fell upon the audience...and were passed around to the children there in attendance.
I walked away from the concert relieved in a sense. The burden of the past two days was lifted. Hours upon hours of worrying about what has become of our world and how maybe madmen are destroying it for us and our kids was changed by the thought that out there STILL are men like Colonel Halvorsen and the countless GIs he enlisted in a simple effort for the children suffering at that time.
My heart was full, my head racing with thoughts as we slowly made our way outside, where the snow was still lightly falling and the lights were still ablaze.
21,000 people descending upon Temple Square after the concert is not a fast moving experience. We crawled, it seemed, at times. It was easy to lose the girls as at every corner we approached we had to wade through people headed in the opposite direction.
In this thick madness of merry people I saw a man ahead of me slightly stop and turn and put out his hand. I wasn't expecting it and clearly he wasn't expecting me to be standing there. I looked him in the eye and did not recognize him but I instinctively took his hand and shook it. "Merry Christmas" I said, "I'm glad to shake your hand."
He laughed. Clearly he was reaching for his wife. So he joked, "I was going to hold your hand. But Merry Christmas to you too!"
We all laughed, total strangers and my family around me. It was a spontaneous, silly moment. It was healing moment that taught me tonight that in the face of great sadness it is ok to smile, to laugh and to have a Merry Christmas.
Up there at the top of this post is a picture I've amateurishly worked on since Friday's news. Frozen in my mind are my children. My babies. It is hard not to think of them that way. The drama in our family life the past year has made an old man of me, with a heart aching for a turning back of the clock.
But tonight these babies of mine are frozen in my mind for other reasons beyond regret. They are there because I still see them as the hope for the future. They have such great potential for goodness. They have such golden hearts to do things that matter. They have arms that can reach out to serve.
And they are here. And for that I am profoundly grateful. I am truly one of the lucky ones.
Comments
Trackbacks