Long-winded Christmas musings and observations in operating My Merry Christmas.
Remembering Christmas Past -- Way Past
---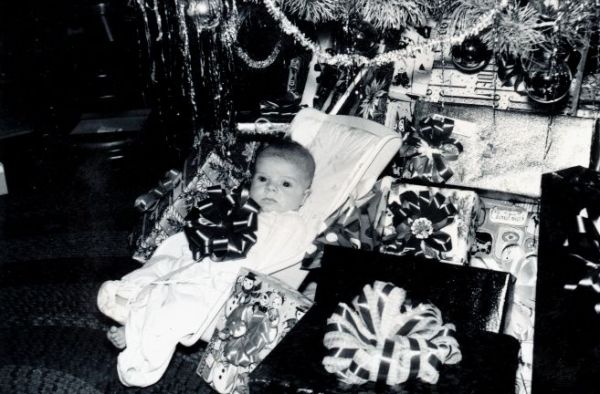 Pictured to the right is a baby picture of me -- about two months old just before Christmas of 1963.
I do not remember this picture being taken.
It is part of a large project that I started a couple of years ago for the celebration of my parent's 50th wedding anniversary.
My Dad was kind of a photo nut growing up. When I was a kid we had our own darkroom and I can admit to spending many, many happy hours in my teens there in the dark developing my own pictures, slides and enlargements as a photo hobbyist in the late 70s and early 80s.
My Dad understood then that one of the secrets to good photography is to shoot a lot of pictures.
Unfortunately, time and technology changes and the process of archiving all these fading images takes some learning. But I've been doing it for two years straight now and I have years and years of photo finishing industry experience behind me. I should be good at it.
I have scanned and restored thousands of images, such as the one above of Baby Me, which in its original state is quite the faded gray.
I was excited recently to stumble upon a few color pictures taken at the same time. Color photography in the 1960s was pretty widespread and available but my folks were young -- in their early 20s -- my Dad at the time working several jobs and going to college. Color pictures were a luxury for them.
So I was thrilled to find these and to put some of my restoration skills into a set of pictures I previously only had in black and white. Here is a look at that same Christmas, in color, of our home living room: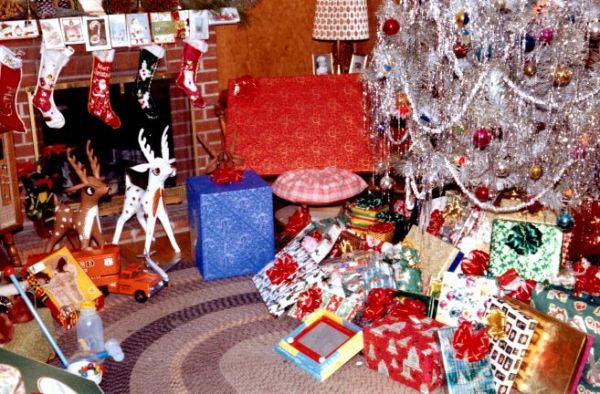 Several things jump out to me in this picture.
First of all, the bows on the presents. Those were all handmade by my mother and I didn't need anyone to tell me that. My mom made bows like that every Christmas, even later when we had the money for store bought bows Mom would make these big bows for really "special gifts".
The tree has a number of items that interest me. First of all, that's a real tree. It's flocked, probably by my father. I'm certain we went out and cut down that tree near the Napa Valley in Northern California. That tree has a string of popcorn or foil garland, a memory I only vaguely remember from my youngest days. We replaced that with commercial garland in later years. And there is tinsel, something else we only had when I was younger. It pleases me to see ornaments on that tree that I saw on my parent's tree this year.
Over by the fireplace are two inflatable reindeer. I believe those were given to us by my Nana (my Mom's mother).
How do I know?
Take a look at this picture, from this same batch, of my big brother: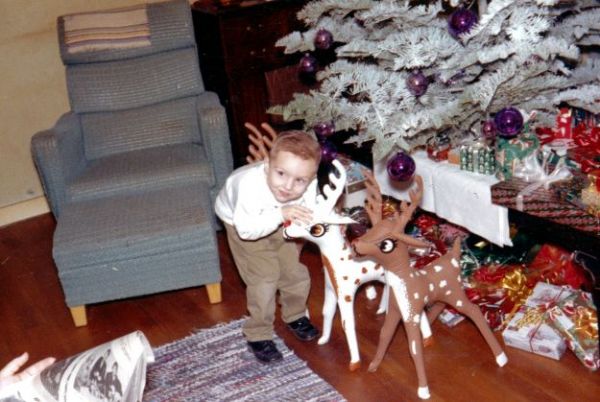 Those are the same reindeer but in a different setting. That's my Nana's house. That's a different tree and that is no doubt her floor.
So why the same reindeer in different houses?
Because we loved the story of Rudolph.
Back then, to us at least, Rudolph was a song and a storybook. My mother and my Nana would read the book to us all the time. We demanded it. I'm certain these were inexpensive to buy and I'm certain she had them there because she knew how much we loved them and liked to play with them. She babysat us all the time and no doubt wanted us to be happy. She insisted, in fact, that we were happy.
Finally, there's this picture: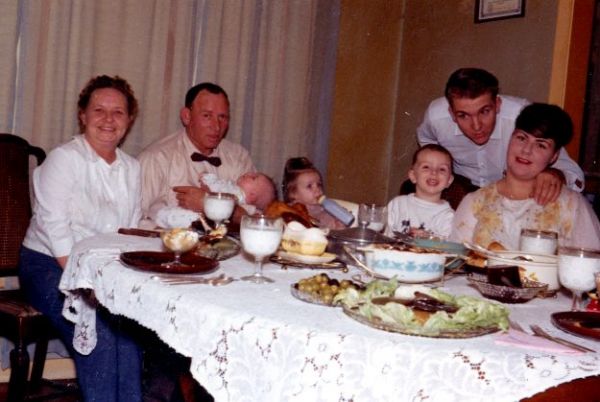 This is Thanksgiving Day, 1963, at my grandparent's house. My grandfather -- who is forever known to us as Bumpa because my big brother couldn't say "Grandpa" -- is holding me. That's my sister with the bottle, my brother, my Mom and my Dad, who was obviously running from the camera on the tripod to back behind the table to get the self-timed photo.
This is precious to me in a way most do not understand.
We have very few pictures of this set of grandparents, especially with us as children. Most of what we have is in black and white.
But I have vivid, full-color memories of them in the early days of my childhood. They lived close by and were active with us on a daily basis. So were my father's parents.
That early influence of grandparents cannot be understated. Especially at special times like Christmas. My earliest memories were that Christmas was not Christmas without them, a lesson I keenly felt just a few short years later when my Nana died when I was six.
Bumpa became less of a presence after she died because we moved about an hour away shortly after she passed. But he moved in with us later, when I was in my teens, for a time because he began to suffer health problems.
Those teen years with his presence are fondly remembered. He helped me buy my first car when I was fourteen and he trusted me to drive it around on his property now and then for the long time I had to wait until I could get my license. He supported me in my activities and I supported his. When he made the decision to leave California and return to his boyhood home in Louisiana I was there as we sold off his properties and packed up his life.
Later, I knew him as an adult. He met my wife and my older children have pictures and memories of him as well.
As I go through all these old photos it dawns on me the real value in what I see in them.
When preparing the slide show for my parent's 50th I had to wade through literally tens of thousands of images. My Dad shot more stupid pictures of the Grand Canyon than you can shake a stick at. You would have thought it was another one of his children because we went every summer and every summer he took the same pictures of that stupid hole in the ground.
And you know what? Nobody wants to look at those pictures.
In fact, other than my passing glimpse of the inflatable reindeer and the bows and the tree, I hardly want to look at that old stuff either.
What matters is people.
Look at Bumpa in that picture. He's wearing a bow tie!
If you knew him you knew that just wasn't him. He was an electrician by trade. And he was a country boy.
But he respected and honored the family at the holidays. He wore a tie. To him, it was like going to Church (which was also something he never did). That picture says a million things about him, about the times, and about the family I grew up in.
I take pictures every Christmas. My kids are weary of my snap-happy ways. I make them endure all kinds of posing and all kinds of sudden candid shots. Almost every picture I take nowadays has people in them -- my kids, my parents, Sandy's folks -- everyone.
Here is a picture from this year's Christmas Eve of three of my daughters -- Madelyn, Allie and Aubree:
It doesn't look like much to them now. If you were to ask them they would probably complain about their hair or their make up or their smile.
But 50 years from now this will be pure gold to them. Because they are in it together. Written on their faces is the level of love and integrity and good will as my grandfather wore on his face in the Thanksgiving picture above. I can see it.
And that's the most important part of every Christmas to me. And it has been that way since I was a baby.
Comments
Trackbacks