Long-winded Christmas musings and observations in operating My Merry Christmas.
Christmas Out There
---
A week ago my wife and I returned from a rare kind of vacation. We took it alone -- just the two of us.
As parents to seven children there hasn't been much "just the two of us" time. We find it important to have a date night once a week and every now and then just steal away together.
But this trip was something special. We traveled from Utah to New York state, where we explored for four days before heading off on a cruise to Canada and New England.
This destination had no special meaning to us other than a promise of cooler weather, plenty of historic sights to see and, of course, the potential for scouting of some unusual Christmas shops.
We like to find the small, out-of-the-way Christmas shops.
I think just about any true lover of Christmas out there harbors a fantasy of owning a Christmas shop. I know I do. I have a career of retail experience, know just a little about Christmas and have plenty ideas of how to "do it right". I travel a great deal -- and I stop to see Christmas shops where ever I find them. And frankly, a lot of people just get it wrong.
We had some other needs in shopping Christmas shops as well. There is, after all, the annual ornament exchange. We wanted to find a unique ornament out there that might reflect Christmas in our travels.
In the end, we saw maybe four different Christmas shops between Canada and New England. There are, of course, others. But these were all we could find to bump into in our travels.
And none of them were very good, honestly.
In Cooperstown, New York there is a baseball themed Christmas shop. That was about as disappointing a stop as a Christmas shop could be. Most items were made in China and lacked any kind of creativity. And the prices!
In Bar Harbor, Maine there are a couple of Christmas shops and they were much better. But one shop, claiming to be an All-American shop with only made in the USA products, quickly took the spirit of Christmas away by not selling anything under $20.
I'm all for people making money. But, c'mon. There are few ornaments out there worth $40 or more and this place was full of them. For your garden variety made from dough and resin ornaments there wasn't much there to distinguish this particular shop -- other than the fact that they were convenient for cruise ship tourists who were looking in a place that might at one time of the year become very Christmasy.
I suppose my venturing into these Christmas shops is more about feeling Christmas than it is actually buying it.
I would buy more of it but honestly they don't represent much value to me. Christmas, you see, isn't about the latest and the greatest.
And that is why, I think, we see Christmas shops come and go like they do. They aren't marketed for the spirit of Christmas. They are marketed for the profit from the season.
I have a hunch, that when the day comes when I open my Christmas shops, that the profit to be made will come because the spirit of the season is what really appeals. If you have that, you'll succeed.
Case in point: the highlight of this trip, as we posted in these forums from the dark lobby of a Manhattan hotel, was getting a chance to meet Jay.
Jay runs our radio station and we've celebrated Christmas and have "known" each other here for years. But we had never met.
What a great Christmas moment that was! We had a delightful visit and one that we'll remember fondly for years to come.
You certainly won't find one like Jay in any Christmas shop anywhere in the world!
For all the searching for Christmas we did we only found it in meeting Jay. It made the whole trip.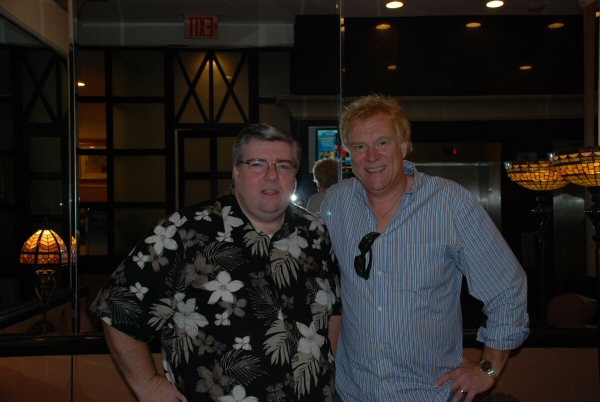 Comments
Trackbacks