Long-winded Christmas musings and observations in operating My Merry Christmas.
How to Throw a Christmas Party for the World
---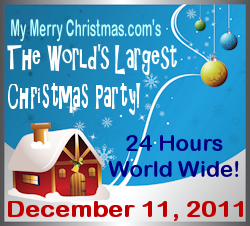 I was at the grocery store the other day when I bumped into a neighbor. We got to talking and he finally asked me, "So, what's with this Christmas thing you do?"
I had to chuckle to myself. For all the years we been building My Merry Christmas online I haven't been the most active person offline in promoting it.
I don't know why.
I'm just a shy person by nature and I'm not the type to walk into a room and say "look at me!".
As a neighbor I just go about my business, going to work every day, attending church on weekends, trying to mow the lawn frequently enough so that the neighbors don't think my wife does all the yard work (I fail, she does nearly all the yard work) and if there is an identity we have in our neighborhood it is that we have the largest family around, each kid being a character of some sort.
I'm a background kind of guy, a potted plant. I'm around for atmosphere. I'm there for the water fight and the fireworks on the Fourth of July but I'm not known for much else.
But over time the world around me is catching up to my online exploits. I've been "online" since 1989, which makes me somewhat of a pioneer. As Facebook has developed and as we here at MMC are finally connecting with it through our own page there I am finding my online and offline worlds are beginning to collide.
And I'm confusing people all over the place.
For years the neighborhood has known me as the "candy guy", due mostly to my employment. They didn't know what I did for that company but they understood I traveled a lot and when Mother's Day came around all the ladies at Church would get a candy treat and around Christmas time we would hand out boxes of the stuff.
So many of my closest neighbors and not-so-close neighbors are only just now discovering My Merry Christmas and my connection with it.
And they are starting to ask questions.
Is that really your website? How did you get THAT job? (What a neat place to work!) Do you really have a radio station too? Is Santa really around all year long? Don't you celebrate any other season?

Oh, I'm hearing it all.
And I think it all might actually be a good thing. After all, I'm not advancing my agenda here or showing off some secret fetish. It's not like I've got 9000 Christmas blow-molds in my yard either.
But they are starting to notice all on their own.
I'm curious to see how it changes things.
For example, my daughter the other day was telling me that I have a reputation with some of the younger kids in the neighborhood that I had no idea about.
They're scared to death of me.
I'm a big man physically and while I stay to myself most of the time I will occasionally put on my parent face and do what needs to be done. We live in Utah, a place with big families and there are more than 90 kids on our block. We live on a street with an elementary school, so kids are all around us all the time. Occasionally they need some parental involvement and I guess one time some kids were throwing rocks from across the street and into our yard -- near my kids, near my windows and near my cars. I don't remember doing this but evidently I cross the street in my big teddy bear attack mode and got in the grills of a few ten year old boys who were guilty of nothing more than being boys.
That once little incident has given me a reputation amongst the younger set and they scatter now whenever I even drive up. I can only imagine what an axe murderer I've become over time to these kids.
What are they going to think when they find out I'm trying to organize the World's Largest Christmas Party?
If their participation during our summer holidays are any indication I have a feeling I'm about to get a lot closer to the neighbors come Christmastime.
The World's Largest Christmas Party is still very much in the idea stage and it was born of a conversation we've been having in the Christmas Crew area about our 20th birthday this year and what we could do to celebrate.
How about that? Just like Christmas itself this event is going to be both a birthday party and a Christmas party. Can it get any better than that.
The general premise is this -- on December 11th -- no matter where you are in the world, let's celebrate together.
How can we do this?
Well, we have lots of resources. We have these forums. We have the radio station. We have the chat venue at Christmas Chatter.com. We have folks with lots of web cams and video cameras -- why not bring all that together and celebrate a little Christmas?
I've been thinking about it. There are so many things we can do.
We can show off our Christmas trees via pictures or perhaps show off local Christmas splendor via video.
We can have a massive Christmas cookie cook-off.
Oh, the ideas are endless.
My personal goal, no matter how this turns out, is to confuse my neighbors and especially the kids in the neighborhood about me even more.
I want this thing to be so big and so festive they will wonder how in the world I was ever a part of it.
And who knows? Maybe the kids will stop running every time I pull into the driveway.
Comments
Trackbacks