Long-winded Christmas musings and observations in operating My Merry Christmas.
Movin' on Up, Moving on In...
---
It has been a time of unprecedented change for us. But things are starting to look up after what has admittedly been a horrific year.
Here's the outside of our new country home...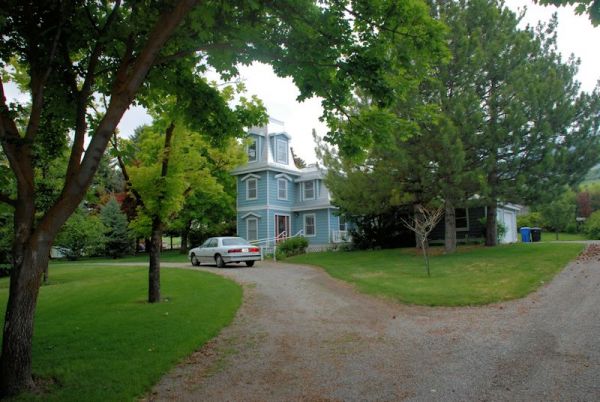 This home is located some 100 miles from our home of the past 12 years. It is located in the country, some 2 miles away from a Pepperidge Farms facility that manufactures fishies (my kids insist this is an important detail and "new feature" in their lives).
It is a pretty drastic change from our humble little city track home. We're leaving a community of 90,000 in a suburb of Salt Lake City for a tiny farming community of 2,400. The absence of traffic noise, the presence of country aromas (cows), and the brilliance of the stars at night are only the tip of the iceberg when it comes to the change this is for us.
The house has a very park-like setting...
We have five acres of lawn, pasture, orchards and weeds. My 16-year-old-anxious-to-drive-daughter has already mastered the riding lawnmower...and has spared me those duties. But make no mistake: this place is so big I'll have no choice but to do my share of weeding, planting and harvesting.
These pictures were taken on a semi-rainy day in May when my girls got a chance to see the place for the first time. When the kids spied the horse out back they gasped. My ten year old asked, "Is that a unicorn, Dad?"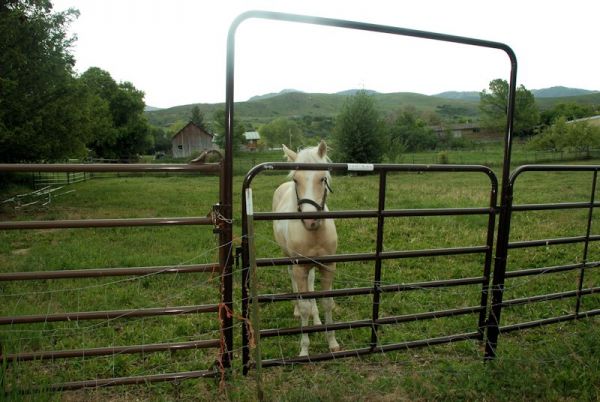 The horse was just a temporary visitor. The pasture now awaits the arrival of Sam, our border collie who has no idea yet what is coming.
Seeing the house and beginning to move our things into it has taken the edge off of the sting of all this change. My three adult children have all "visited" (during Father's Day weekend) and each has claimed their little corners of the new homestead.
This is the back of the house: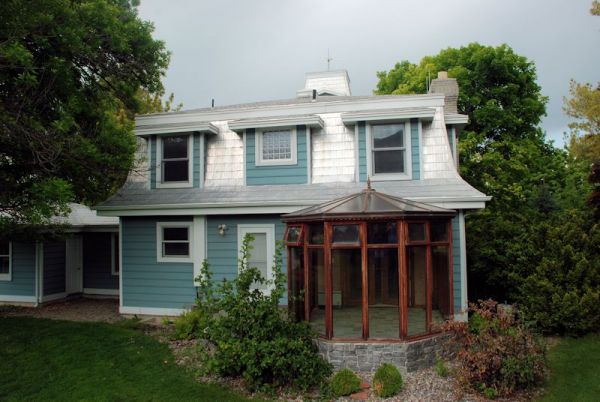 The house was built in the late 1970s and was modeled after the Langford home in San Francisco. In our days of house-hunting I came to call this the Adam's Family House because of it's design. For some reason it just screams Halloween to me, an assessment my 20-year old daughter, who is the resident Halloween freak, agrees with. She has big plans for Halloween...and she won't even be residing with us in this home.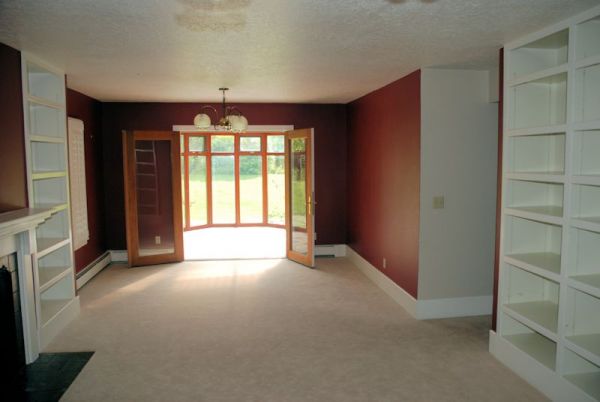 This is the living room....where all of our Christmas action takes place. This room will be filled with sofas, recliners, lights and stockings to be hung with care on that mantle to the left.
This area is in extreme Northern Utah, very nearly in Idaho, and it gets cold here. Sub-zero temps are pretty standard in the winter here as are occasional prodigious snows. That nook at the end of the living room is called the "sun room", one of those glass-enclosed additions that will provide growing space in the dull days of winter and a feature that floods this room with light. Given the immensity of the yard I'm not sure yet if we'll get to actually growing things in this room this winter.
However, the thought was forwarded that we could set up a large Christmas tree in the dead center of it and put the train and the village on the floor all around it. That would make a spectacular showcase from inside and outside of the house come Christmas time. The idea intrigues me.
Of course, for a much sparkle as that would add, it wouldn't replace the family tree that will go in the living room. And that discussion has been had already many times.
As of this writing we're smack in the middle of our move. Our old home is now mostly empty, only a few unwanted items remain and several weeks of repairs and painting await us as we close things out. The new house is oddly empty too...or at least feels that way in many respects...because we haven't had the time or the money to do all to it we want. It remains a vision.
Much like our future the house is filled with potential. It is exciting. It is scary. And it is our way of life right now.
Comments
Trackbacks