Long-winded Christmas musings and observations in operating My Merry Christmas.
50 Christmases
---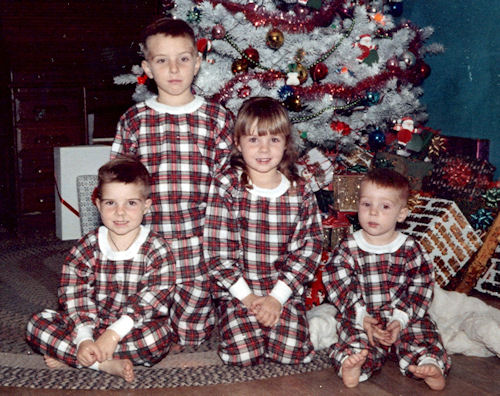 Last week we celebrated the 50th anniversary of my Mom and Dad. They never had a wedding. So my siblings and I got together to throw them a party, complete with cutting a cake.
It was a big deal, especially since my Mom suffered two strokes in May. There was considerable doubt as to whether we should even try to hold such an event but the doctor insisted that we go for it. "Your mom needs to have something to look forward to and it will help her meet her rehab goals", he told us.
Indeed, he was correct. In the last few weeks before the party Mom made significant progress.
Her strokes were did not leave her conventionally disabled. Most stroke victims show left side weakness or paralysis but Mom's was particularly cruel in that it affected the parts of her brain that control memory and personality.
We quite honestly were grieving in May, thinking Mom might not ever be the same again.
But she put hours and hours into rehab and though some problems -- like her handwriting, for example -- remain most of the significant issues we noticed have subsided. Mom is back completely with her memory. She remembers, in fact, very vivid details of earlier times and her personality is as bright and sharp as ever.
It was my duty as part of this grand event to put together the slide show.
Let me qualify that statement with some details you don't know about me or my family.
My Dad was a geek before the word geek was even invented. Photography was a huge part of our lives when I was a child. We had our own darkroom and we used it all the time.
For years I thought it was my father's job exclusively to produce slide shows.
That term "slideshow" is a bit dated. I even had a daughter who asked me when I was working on this just what the word "slideshow" meant. I felt that was a good 21st century question.
Back in the day someone who was serious about photography would maybe own their own projector versus merely renting one. They might even own their own screen. (We had several).
But my Dad, when he would do a slideshow, would blow everyone away. He would use at least 20 projectors, sometimes even more. They were chained together and synchronized to drop slides to coordinated music and narration.
Mom was no slouch with a camera either. Back in an age before computers my mother would do all the graphic arts and if Dad needed animation Mom could draw it and Dad could photograph it and make characters move around the screen -- yes, with slides.
For such productions Dad had a screen that was a large as any you see in a theater today and the projectors would be behind it, requiring the slides to be loaded into trays backwards.
I tell you all this so you understand the pressures I was under in producing the "slideshow" for my parent's 50th. There are standards to be met in my family for such a thing. It was no small undertaking.
Plus 50 years worth of pictures from a family of photographers is a mountain of work. For the past year I have dedicated a huge chunk of time to scanning prints, slides and negatives and I don't think I even made a dent in the pile. Trying to compile that info and tell their story -- a love story, no less -- was quite the undertaking.
Well, the party was a week ago and the slideshow was a big success. What was once a daunting project is now a keepsake burned to DVD now safely in the hands of not only my parents but also all their kids, grandkids and great grandkids -- a mini-documentary of family history.
Truth be told, I had a great time putting it together. I remembered. I discovered. I saw my childhood past through my adult eyes. And I cried a lot.
Central to all the images and all the years they documented was the steady drumbeat of Christmas. We celebrated every year.
I relived every Christmas tree.
I saw many a Christmas morning again through images I had either long forgotten or frankly had never seen before.
I saw cookies being made, pies being consumed, presents being wrapped, carols being sung, and visits with Santa. Year after year after year.
Christmas is like a dear old friend. I never tire of looking back on how we celebrated -- and continue to celebrate the season.
Over the course of the past six months we have experienced some drama in my family. Things have been rough, to say the least.
But Christmas, as it usually does, pulled me out of the funk. Lost between the seasons those pictures documented was a lot of time not really remembered -- times not really worth cherishing. From either the drama of growing up or the mundane routine of supporting life there is a lot more time spent dealing with stuff than there are times like celebrating Christmas as a family.
But it is those good times we look back on. It is a season like Christmas or memories made together in some event -- like a 50th anniversary party -- that stay within the recesses of our minds as blessed.
I am a sentimental old fool. If you've read anything I've written through MMC all these years you know that about me.
But thank goodness I am. Christmas past, for me, isn't something to be left behind. It lifts me up even today -- even during times of the year when Christmas is far distant -- and it gives me proper perspective.
For Mom and Dad that is 50 Christmases together.
And that is quite a blessing indeed.
Comments
Trackbacks