Long-winded Christmas musings and observations in operating My Merry Christmas.
Christmas Kin
---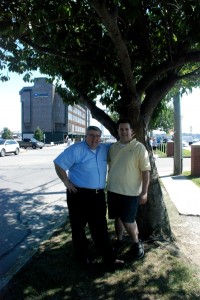 The brilliant sun-kissed afternoon of a summer's day in swanky Newport, Rhode Island is hardly the backdrop you would imagine for the latest chapter in an ongoing Christmas story.
It happened today, the first full day of a cruise my wife and I are on up the New England coastline. As the early evening approaches and we are now "out at sea", swaying gently back and forth as we move on now to Boston, I am feeling a sense of Christmas not commonly felt outside of Christmas Eve itself.
Today was the day and Newport was the place where I finally met an old and dear friend I had up to that point only known online, a relationship born right here on My Merry Christmas.
The only downside I can see to running a community on the Internet is the fact that I may never get to actually meet, face to face, those I share Christmas with. But there are a few like-minded souls you ache to meet because you go through things in the course of season after holiday season online.
Most online relationships are sadly superficial. You might get to know a few personal details, you could even share some laughs with people you "meet" online. But rarely do I get to work side-by-cyber-side with those who I share Christmas with online as I do with Mike Rielly, of Clausnet.com fame.
Mike and I "met" -- I believe it was in 2004 -- not long after I first launched the Merry Forums as part of MMC. He came aboard as one of our earliest members of the forums and we shared an almost instant rapport in our quest for Christmas celebration made pure.
Mike's story is known to many. His grandfather was Santa Claus for more than 60 years and Mike to this day continues that family tradition by playing Santa every holiday season in his community, a tradition he is slowly teaching his own son. When I say Mike is Santa Claus I mean that with the utmost of respect and admiration. Mike is the kind of Santa that is hard to find.
Being Santa is not easy. There is a look, an attitude, a twinkle in the eye and a special kind of love in the heart that it takes to be the kind of Santa Mike is. He doesn't do it for money. He does it for both the love of children and the love of Christmas – and an understanding of the true heart of Saint Nicholas of old.
He dons the suit to serve and to make others happy. Playing Santa is as much a gift of Christmas to himself as it is to others because Mike has the perspective of a grandson of a classic Santa who taught him not only through his many years of service but also coached him in the art – and I do mean ART – of being Santa Claus.
Most of the year, Mike is like everyone else. He works, he pays bills, and he supports his family. Only occasionally does he get to be The Man, as those in the Santa Claus community understand it as they take upon the role of Santa. Mike takes it very seriously and constantly works to improve his "Santa skills".
In that respect we are completely of one heart and one mind. If any of you have read our sister-site, Defending Santa.com, you understand well our efforts here at My Merry Christmas to portray Santa properly.
We feel that Santa Claus has been misrepresented by the modern media, in Hollywood movies, on the Internet and even by some who play Santa for money in public. There is a constant need to educate folks – especially children – of Santa Claus, the real individual, who was a man of tremendous faith and integrity.
Soon after we met Mike and I began to discuss an idea he had for a Christmas community of his own, one dedicated to those who portray Santa Claus. It is a "niche-within-the-niche", as we like to joke.
From those conversations has blossomed a community of Santas now numbering more than 950 members.
Clausnet is a stunning site to look at and the unique flavor of Christmas celebrated there should be enjoyed by more folks of the overall Christmas community. The professional Santas of Clausnet are dedicated to the preservation of Christmas traditions and are a cherished asset, in my view, of the overall Christmas community online.
Most of the folks active there are like Mike. They just want to be the best Santa Claus they can for the communities they serve. They carry not only a love of the season but also work hard to convey hope and peace, the central themes of Christmas itself.
There is a brotherhood amongst the folks who gather at Clausnet to talk of their work as Santa or Mrs. Claus. They want to do well and they work to improve. Their work, while on the surface is fun (and for the most part it is) also includes no small share of heartbreak as they work with kids in disadvantaged situations or suffering from devastating disease or illness.
Many of them are the salt of the earth – true reflections of what Christmas indeed is all about.
But as in all communities there are a few who make life, even as Santa, difficult. It has been with these issues especially that I have become close to Mike, and a few others at Clausnet, over the years.
I have a fine line to walk. 99.9% of the folks in the professional Santa Claus community I respect. But the relative few who would exploit the uniform they wear for gross personal gain or to pad their egos I am especially impatient with. And there is an unsavory element out there of folks who use the image and respect gained over centuries by St. Nicholas for personal profit, often to the detriment of others. They give fuel to the efforts of Hollywood to destroy the true legacy of St. Nicholas and they draw, like flies some times, even more unscrupulous people to portray Santa Claus. In that respect the mission of Clausnet.com, DefendingSanta.com and MyMerryChristmas.com is united – we must continue to educate and raise the level of "Santa awareness" so that folks always know the true order of St. Nicholas.
Mike is also a professional. He has vast knowledge of online technologies and social media. He writes well, and can design and handle technical details. He is a steady resource for me on several levels.
He is also my friend. Through many phone calls and emails over the years we have shared personal high and low moments. We are nearly exactly the same age and relate well as fathers and men.
So I would admit to you a few butterflies as we made our connection today.
How silly of me to be nervous. Mike is a brother and always will be. It was a particular thrill to introduce him to my wife, who struggles even still after all these years to understand my obsession with Christmas.
A few years back, while on a similar trip, Sandy and I got a chance to meet JayIsh, another of many I consider Christmas kin.
And like meeting Jay, meeting Mike today – finally, face-to-face – was a highlight not only of this trip but of my life.
Comments
Posted 08-31-2010 at 05:02 PM by

Mumof2
Trackbacks