Log-in
Register
» Stats
Members: 9,973
Threads: 53,442
Posts: 601,587
Top Poster: xmas365 (150,043)

Welcome to our newest member, Norrisrals
» Recent Comments
The Best of Christmas Sitcoms
My top favorite Christmas Sitcoms: All from M*A*S*H , Happy Days, Laverne and Shirley. Step By Step - I'll Be Home For Christmas
The Best of Christmas Sitcoms
Here are my top 10: (in no particular order) All 3 M*A*S*H Christmas episodes they made: Dear Dad Dear Sis Death Takes a Holiday The Bob Newhart Show: His Busiest Time I'm Dreaming of a...
Tips for Buying a Fresh Tree
I will do that fresh cut of the trunk.....that was my problem last Christmas.....the tree lost so many needles....even tho it was fresh....the problem was....since I didn´t cut the trunk....the tree...
| | |
| --- | --- |
| | |
06-06-2011, 05:17 PM
MMC Hostess of Christmas Online

Join Date: Oct 2005

Location: Ontario, Canada

Posts: 4,853

Thanks: 1,372

Thanked 3,408 Times in 809 Posts
I guess I should add that I'm an
ALL or Nothing at ALL
kinda gal. Christmas wrapping in my teenage years included eggnog, chocolate turtles and Christmas music. I can't have just one chocolate. Maybe I could, but I don't trust myself so I avoid all treats. It's been so long, I'm afraid I would eat half the box.
I think this was the first Christmas that Santa didn't put a box of Cracker Jacks or Lucky Elephant Popcorn in my stocking.
(I always gave it to my friend's kids.)
Sometimes I have "gorging dreams" where I'm raiding someone elses fridge at stuffing birthday cake and other things into my mouth. I can taste them in my dream - believe me. I wake up with a jolt and a sigh of relief knowing it was just a dream.
__________________
Give yourself a merry gift and tune into MCR
http://www.live365.com/index.live
For more Jolly Fun, please visit:
www.ClausNet.com
www.ChristmasTalk.com
www.MagicalHolidayHome.com
http://realhalloween.com/
Don't forget to check out Cool Yule Comics
http://www.coolyulecomics.com/
and
http://www.whychristmas.com/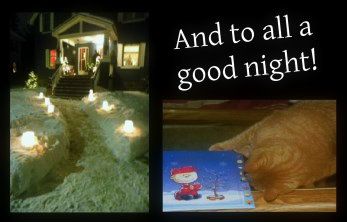 06-06-2011, 05:39 PM
Christmas Deity

Join Date: Jun 2009

Location: Deep in the Heart of Texas!

Posts: 29,398

Thanks: 17,465

Thanked 49,491 Times in 9,045 Posts
Originally Posted by
AuntieMistletoeDear

I get my strength from my father. After his bout with cancer seven years ago, he nearly died, as a result from the type of cancer he had and the treatments, he has to eat from a feeding tube in his stomach, yet he still cooks for my mom, company, his bridge buddies, and watches cooking shows on T.V. He's still working and enjoys golfing and travelling so it hasn't put a damper on him, I think it's harder on us knowing he can't eat.
You just opened my eyes to stop my whining. Like I mentioned before I have some food allergies and absolutely cannot have wheat/gluten and dairy. I also cut out sugar. That seems to be in all Christmas desserts and going through the holidays can be a little tough on me. Knowing what your father has to go through, I need to be VERY THANKFUL that I can at least eat.
I am glad to hear your father can continue on with the things he loves to do!
The Following User Says Thank You to Christmas-A-Holic For This Useful Post:
06-06-2011, 07:03 PM
MMC Hostess of Christmas Online

Join Date: Oct 2005

Location: Ontario, Canada

Posts: 4,853

Thanks: 1,372

Thanked 3,408 Times in 809 Posts
Thanks. He's my hero! My husband couldn't believe when I started baking, he loves sweets. He used to hide them and I told him he didn't have to do that, I have will power. Sometimes we'll be at a gathering and I'll choose something on the sweet tray and tell him to eat it for me. He doesn't like all the same things I used to like, but he'll eat it for me anyway or my mom will if she's there.
I know what you're talking about though about how hard it is to find things you can eat. I know two people who have too much iron in their system and have a hard time with various menus. I read food labels, I've got my husband doing that now so we can reduce the sodium in our diets. I bought a few gluten-free items to try them thinking they might be healthier than the other stuff, but honestly they seem more soggy tasting.
Restaurants are getting better in my city about offering "smart menus" so if people are trying to eat healthier they know what they're getting.
Nut allergies have to be one of the worst that I've come across.
__________________
Give yourself a merry gift and tune into MCR
http://www.live365.com/index.live
For more Jolly Fun, please visit:
www.ClausNet.com
www.ChristmasTalk.com
www.MagicalHolidayHome.com
http://realhalloween.com/
Don't forget to check out Cool Yule Comics
http://www.coolyulecomics.com/
and
http://www.whychristmas.com/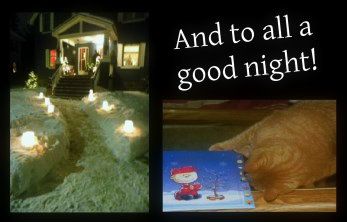 | | |
| --- | --- |
| | |
Posting Rules

You may not post new threads

You may not post replies

You may not post attachments

You may not edit your posts

---

HTML code is Off

---