Log-in
Register
» Stats
Members: 9,978
Threads: 53,472
Posts: 602,823
Top Poster: xmas365 (151,038)

Welcome to our newest member, ShontelleE
» Recent Comments
The Best of Christmas Sitcoms
My top favorite Christmas Sitcoms: All from M*A*S*H , Happy Days, Laverne and Shirley. Step By Step - I'll Be Home For Christmas
The Best of Christmas Sitcoms
Here are my top 10: (in no particular order) All 3 M*A*S*H Christmas episodes they made: Dear Dad Dear Sis Death Takes a Holiday The Bob Newhart Show: His Busiest Time I'm Dreaming of a...
Tips for Buying a Fresh Tree
I will do that fresh cut of the trunk.....that was my problem last Christmas.....the tree lost so many needles....even tho it was fresh....the problem was....since I didn´t cut the trunk....the tree...
06-26-2011, 01:43 PM
Mistress of Home & Decor

Join Date: Aug 2006

Location: Sunny Florida

Posts: 2,799

Thanks: 164

Thanked 323 Times in 168 Posts
Mulled Wine Recipe
---
Mulled Wine

Ingredients:
•One bottle (750 mL) of red wine (suggestions: Cabernet Sauvignon, Zinfandel, Merlot)
•One peeled and sliced orange (keep peel to add zest to taste into cooking pot)
•1/4 cup of brandy
•8-10 cloves
•2/3 cup honey or sugar
•3 cinnamon sticks
•1 tsp fresh or 2 tsp ground ginger (allspice can be substituted)
•Serves 4-6

Preparation:


To make the perfect cup of mulled wine, combine all ingredients in either a large pot or a slow cooker. Gently warm the ingredients on low to medium heat (avoid boiling), for 20-25 minutes. Stir occasionally to make sure that the honey or sugar has completely dissolved. When the wine is steaming and the ingredients have been well blended it is ready to serve. Ladle the mulled wine into mugs (leave seasonings behind) and enjoy!
__________________
"MrsH, you're brilliant (and yes, quote me on that)." - Jeff Westover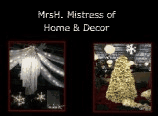 07-16-2011, 02:45 PM
Leader of the Heavenly Host

Join Date: Nov 2007

Location: Ontario, Canada eh!

Posts: 119,911

Thanks: 101,365

Thanked 76,362 Times in 12,655 Posts
sounds like a great night cap!
08-01-2011, 08:45 AM
Christmas Deity

Join Date: Oct 2010

Location: New York

Posts: 21,742

Thanks: 19,577

Thanked 8,568 Times in 1,458 Posts
This is just like Glogg - I'll post the recipe. It is nice for a cold night.
__________________
"Someday, someone will walk into your life and make you realize why it never worked out with anyone else." Anonymous
(thank you Auntie for my pix)
Posting Rules

You may not post new threads

You may not post replies

You may not post attachments

You may not edit your posts

---

HTML code is Off

---