Ten Predictions for Black Friday 2009
By Jeff Westover -- Editor, My Merry Christmas.com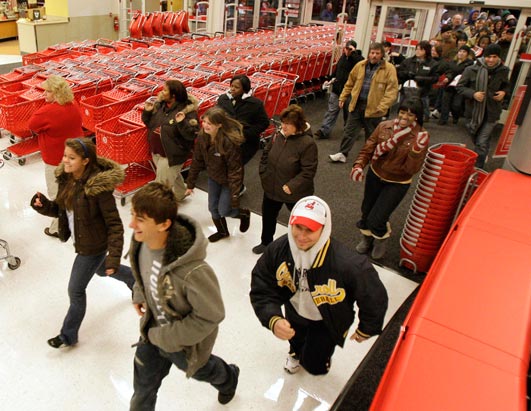 When it comes to Christmas, Black Friday has become as traditional as eggnog, Santa Claus and uneaten fruit cake. Heralded as the traditional start of the Christmas shopping season Black Friday is the day after Thanksgiving when stores open insanely early touting rock-bottom pricing to woo the Christmas customers. It never quite lives up to the hype. But it gives us plenty to talk about in the run up to Christmas. Here are our bold predictions for Black Friday 2009:
1. Netbook computers - tiny little computers about the size of a paperback have been a semi-rage in retailing circles all year but they present a neat little package for Black Friday. Designed to be Internet-ready email machines, these little computers are portable and cheap. How cheap? Expect to see them priced around $129 this Black Friday.
2. What about Notebook computers - you know, something with a 15 inch screen or bigger? Past BF deals had them coming in around $400-$500. For this year, look for them as low as $249 and equipped better than ever.
3. Blu-ray players for $59. You read it here first. Some movies will be priced as little as $5 on Black Friday. Prepare to stock up.
4. LCD televisions will once again steal headlines for Black Friday - you'll see 46-inch 1080p sets for as little as $599. Get there early though.
5. Apple will discount their entire line of computers and iPods - a whopping 5% to 10% off their ridiculous prices. They will tout this as bigger news than the Second Coming and will be totally flabbergasted when sales come in flat against last year. It's the economy, stupids.
6. Nintendo Wii for $199 - just about everywhere. Oh, how the mighty have fallen. Of course, it doesn't help that Sony recently release a slimmed-down version of the PS-3 at $299. The Wii is so 2007.
7. GPS units for $49 to $99 on Black Friday. Use a paper map to get to the store.
8. FREE SHIPPING will dominate online retailers in an effort to keep you from pulling yourself from your turkey-induced slumber on Black Friday. Yeah, it's a great deal but is it as fun?
9. JCPenney will give away a Mickey snow globe. Yes, we know that's not news but we have a nice collection of the little guys and a nasty habit of never buying anything there when they open the doors at 6am.
10. Digital Camcorders of the HD variety will see a price drop to around $350 - loaded, too, for that price.
Now let the real fun begin: as the ads break starting mid-October we will see how many of these predictions actually come true. Stay tuned.
© 1991- - All Rights Reserved -

This article is copyrighted. Regular checks for plagarism and unauthorized use are maintained through Copyscape. Violators will be prosecuted to the fullest extent of United States and International law. Use of this article in part or whole is strictly prohibited. For reprint, quotation, or except use please contact Merry Network LLC.