Predictions for Black Friday 2010
By Jeff Westover -- Editor, My Merry Christmas.com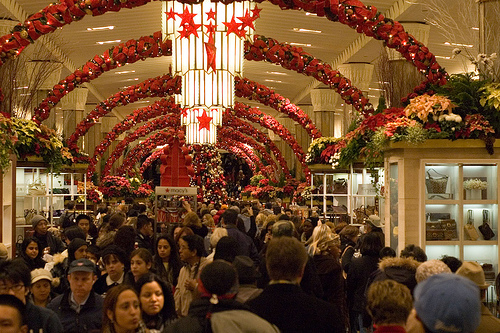 The epic events of Black Friday 2009 make predicting this year's Black Friday all the more difficult.

In 2009 an economy gone sour caused mass reaction by both retailers and consumers. On the one hand, retailers jumped at the opportunity to be the first and the most aggressive in the marketplace. Black Friday events started just after Halloween and continued right through Christmas. On the other hand, consumers were tight fisted throughout the season, not easily parted with their money as in years past.

The result was a frustrating season for nearly everyone. Retailers rushed to cancel and downsize product orders. Those last minute moves meant some product shortages for consumers and a lot fewer hot price reductions towards the end of the season.

How will it all shake out this year?

The lessons of 2009 will lead to yet again a shift in Black Friday marketing. Yes, the hype will be there. And yes, the crowds will show up - at least to kick the tires. But the separation of the consumer from their money will be harder than ever.

And that tells the whole story of what will happen on Black Friday 2010:

The Emptiest Hype: 3-D Television
You are going to hear a lot about how great 3-D will be. You'll hear about game systems that don't require special glasses to play and about stunning movies you can watch. And a lot of folks are going to have them on sale. There's only one problem: the programming and availability of 3-D will be very small and the price will be substantially higher. Traditional flat screens - which is funny to say because flat screens on the whole are really a phenomenon of the last 15 years - will be cheaper than ever and a better bang for the buck. 3-D will get a lot of press we think eventually will dominate the TV market. But not in this economy with so few programming and content choices available.

The Hot Highs and Lows
Like every Christmas there will be the "hot" thing. As usual, high tech will lead the way and there is no getting around Apple's part to play in it this year. The iPad will be a hot tech item causing a few lame competitors will try to get in on the hype. There is a chance the iPad could be overshadowed by Microsoft's Kennect - a $150 device that allows for hands-free gaming - if only because it is a lower price point, it doesn't come with a monthly price tag and it isn't just an overgrown iPhone. But for the millions spent on technology millions more will be spent on $5 toys called Squinkies and Sing-a-Ma-Jigs. The iPad will remain a sexy product for some time to come but the price point this year will prevent many from buying it.

The Big Players
Target and Apple are teaming up to market the iPad. That says a lot about these economic times. And it says a lot more about how far Target has fallen behind WalMart. Walmart, by the way, is going to be as big as ever with Black Friday but with their CEO predicting it will be a holiday for socks and underwear it appears both retailers are taking vastly different approaches to the shopping season. The best deals may be found online - except, of course, at Apple. Their version of a big deal is 10% and that won't woo anyone and it won't apply to those Apple products everyone most wants. The result will be a lackluster season for Apple. The biggest of players and the one who will be keeping us glued to our monitors all Thanksgiving WEEKEND (not just Black Friday) will be Amazon. The online behemoth was a thorn in the side of WalMart, Barnes and Noble, Toys R Us, and tech merchants everywhere with their lightning deals and hot prices. Look for it again this year.

What to Look For
Blu-rays, baby. Get them this Black Friday for between $5 and $10 for several decent titles in several retailers. And Blu-ray players? Some could get as cheap as $50. Also, eBook readers will have their biggest Christmas ever. The niche has exploded with the introduction of price drops around $180 at Amazon and Barnes and Noble. Book readers represent tremendous value because books are cheaper digitally and value sells in times like these. They may want an iPad, but they will settle and will love a book reader as a substitute. Other technology will be cheaper than ever, notably GPS devices and MP3 players.

The Biggest Decline
Gaming, no doubt about it. The Xbox, the Wii and the PS3 are all five years old. And nothing new will be out for Christmas. Nintendo just announced their 3DS isn't going to make it until spring and there are rumblings of price drops on the Wii to as low as $100. We doubt that but if price drops are all they can talk about for this Christmas season you can bet the gaming sector will not have as merry a Christmas as they hope.

Where will the Unexpected Deals Be?
Clothes. Everybody needs them and nobody's been buying for about 3 years in this sector. Aggressive deals, perhaps the most of any category, are going to happen with apparel. Look for JCPenney, Kmart and Sears to lead this charge.

The Best Advice for Black Friday Die Hards
Get out early and get out often. Plan to spend a little time the weekend before Thanksgiving scoping out the stores. Look for the large stock piles and the black plastic wrap to see what quantities will be like. The news and information about what will be on sale is likely to break earlier than ever at sites like BlackFriday.org and BFads.net. Everyone will know what will be on sale. They won't know, however, how much is sitting there. If you really, really, really have to be in on the cheapest of the cheap on Black Friday, be ready to spend Thanksgiving out in the cold.

© 1991- - All Rights Reserved -


This article is copyrighted. Regular checks for plagarism and unauthorized use are maintained through Copyscape. Violators will be prosecuted to the fullest extent of United States and International law. Use of this article in part or whole is strictly prohibited. For reprint, quotation, or except use please contact Merry Network LLC.