Christmas Light Fights Dampen Christmas Spirits from Coast to Coast
By B. Francis Morlan -- Special to My Merry Christmas.com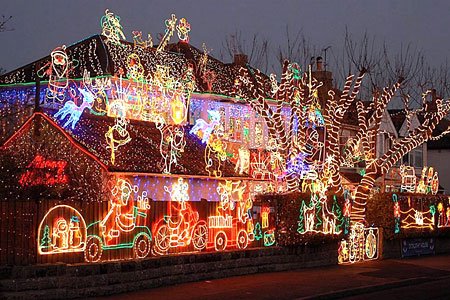 Even with 21,240 lights Wayne Allen does not consider his Christmas display all that big or extraordinary.
"I don't have animations or blow molds, there isn't any music playing. I don't have a nativity in the yard or a Santa on the roof" Allen says. "It is just lights. That's all." But those 21,240 lights are causing big trouble.
The Northern Pennsylvania man has been decorating his home each Christmas season with thousands of brilliant multi-colored lights since the early 1970s. For years people from the surrounding area have driven past the Allen home to look at the lights. Over the years the number of people driving by has numbered into the hundreds on some nights during the season and all that traffic has local police upset with Allen.
Last spring Allen heard through the small local newspaper that a city council meeting addressed the issue of the heavy traffic in front of his home during the holiday season. While none of his neighbors had filed a formal complaint a local police official complained that the "event" was busting his operating budget. The council responded by issuing a cease and desist order for Allen's display. But there was just one problem. They had no jurisdiction over Allen's property, which lies in an unincorporated area of the county. "They had papers for me, I guess" Allen said. "But they couldn't serve them."
Allen's situation is a little different than some similar stories recently in the media. His home sits more than 50 yards back from the two-lane road with the 35-mph speed limit. There are no sidewalks. Just a fence situated about 15 feet from the road that separates Allen's property from the road. Allen closes off the gate early each evening year round when he returns home from work. Because of the barrier cars slow and stop off the side of the road and sometimes people congregate when looking at the lights.
"I've never had any problem with people," Allen admits. "I don't talk to them. They usually stop and look from their cars. But a few get out and mill about for a while, looking at the lights. They broke part of my fence one year. But other than that I haven't had a problem with people. Some folks try to put money in envelopes and put them in my mailbox out by the road but I never cash their checks. It is nice but not necessary. I think for the most part people are polite and well behaved when they come look at the lights."
Wayne Allen is fastidious man. I met him on a muggy summer's day as he was just beginning to string the lights for the 2010 season. Not a thinning hair on his head or a thread on his clothes was out of place. His home was likewise as neat as a pin. Set back from the sidewalk-less road, the ranch-style home and neatly trimmed yards reflect meticulous care. Clearly, Wayne Allen - who asked me not to use his real name for this article - cares what things look like.
"I am no show boater," Allen professes. "I don't put lights on my house to draw attention. It is just what we do as part of our Christmas. We enjoy the lights."
Married with no children, Allen says his Christmas light tradition dates back to his childhood, when he would hang lights with his father. "Dad put lights on the house every Christmas because we had no snow in Louisiana." Allen said. "It made our house feel more like Christmas. I loved that feeling. So I have kept that tradition alive."
Neighbors seem to take Allen's display in stride. "Yes, there are lots of cars," Marjorie Denton, who lives next door to Allen, said. "But it isn't a big deal. From what I can tell it is mostly families with small children who come. Every once in a while there are a few rowdy kids but I haven't seen any trouble because of the lights." Denton had no idea the issue had come up in local council meetings.
Local police officials refuse to discuss the issue outside of the safety of a public meeting. We repeatedly tried to contact the police department and the city council for comment but were ignored or shut out.
"As your display grows you must be ever mindful of the effect it has in your community," says Chuck Smith of Planet Christmas.com, the Internet's largest community of lighting enthusiasts. "If your display is so big the city fathers want to shut you down, consider changing venues. A public park works great, you can collect for charity and you make the elected officials look like heroes." Looking like heroes is a preferred outcome in most communities for all involved with lighting disputes.
Recently in Prairie Village, Kansas resident Mike Babick came under scrutiny when neighbors complained they were fed up with the traffic, trash and chaos induced by his holiday display of thousands of lights and dozens of animated objects - a tradition dating back more than 40 years that has grown only more popular over time.
Babick's attitude did little to help the situation. "Once I get more complaints, it inspires me to do more for next year. It's a personal challenge, and I like a challenge," Babick told the local newspaper. When city officials organized a meeting to discuss options with concerned neighbors Babick was asked not to attend to avoid "a shouting match". City officials went out of their way to say that shutting down Babick's display was not an option.
Not every light displayer is so defiant to the community. In Spring Lake, Michigan Brad Boylink organized a 14-home lighting effort involving more than 200,000 lights and more than $35,000 in his own money for what he calls the "second largest light display in the country".
In 2006, Boyink decorated his own house on Heather Court. That first display was a huge success, attended by an estimated 60,000 people. Because traffic was so congested, he teamed up with the Rotary Club to present it on Harbor Island in 2007. It ran there for two years, but because of weather damage, vandalism, and the fact an entire backdrop had to be created for the display, Boyink said he was easily able to convince his entire street to be a part of last year's show and return it to the neighborhood. A traffic route was determined that was patrolled by the Ottawa County Sheriff's Office.
"We've had meetings to work together as a neighborhood on the logistics and ideas to make it run even more smoothly," he said. "Some of the changes we've discussed included maybe not running it all seven nights a week, but maybe five. We've talked about closing the street maybe on Saturdays, our busiest night, making it a walking tour and running a shuttle service to avoid back-ups.
"Our committee has always been willing to work toward compromise. The majority of people on the street want the show, but it seems we can't seem to work toward neutral ground, as whatever we propose, those opposed won't budge."
It is that opposition that leads to extremes in dealing with issues. In California in 2006 neighbors in San Jose came to blows over the issue of Christmas lights, ending up in court on assault charges.
For Chad Metzger of Temecula, California the arguments go beyond traffic and crowd control. His "small display" of 15,000 lights came under fire in his neighborhood six years ago. Neighbors complained to city officials and he was asked to reconsider his display. For two years his house had no lights on it before he brought it back. "They can burn a flag on the steps of the Supreme Court and defend it as free speech. But if I put up Christmas lights I'm a nuisance. It made no sense to me." Metzger said.
Allen understands how Metzger feels. "The lights are on the house, it is far removed from the road and our intent in putting them up isn't to put on a display," Allen explains. "It is a personal element of the season, something we do for us. My house is my house. The road is theirs."
Unlike the regular debates of Christmas in public schools or on public grounds the laws are thornier when it comes to displays on private property. Rarely does the politics of Christmas get raised in these debates. Instead the arguments boil down to public nuisance caused by the public.
"That's what these cities don't get," Allen said. "The problem isn't my lights. It is the people coming to look at those lights and I have no control over them. The city needs to control the crowd, they don't need to control me."
Allen plans to turn on his 2010 display on Thanksgiving night.



© 1991- - All Rights Reserved -

This article is copyrighted. Regular checks for plagarism and unauthorized use are maintained through Copyscape. Violators will be prosecuted to the fullest extent of United States and International law. Use of this article in part or whole is strictly prohibited. For reprint, quotation, or except use please contact Merry Network LLC.