Predictions for Christmas 2009
By Jeff Westover -- Editor, My Merry Christmas.com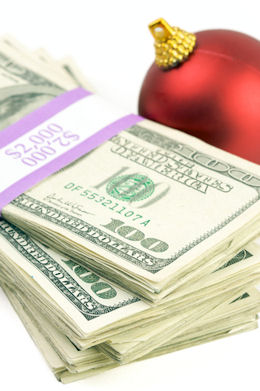 (July, 2009) For nearly 20 years we have been ardent observers of Christmas around the world. Christmas is traditional and some things are quite easy to predict: somewhere in the world a school teacher will declare Santa a fraud. The U.K will see a rash of communities up in arms about a lack of funds for public Christmas decorations. And, of course, Fox News will launch their annual "War on Christmas".
Christmas is, after all, all about tradition and these events happen every year without fail. To predict them would be to say that Bing Crosby's "White Christmas" will play on the radio or that many will watch "It's a Wonderful Life".
But there is just something different about Christmas 2009. A year of economic turmoil and shifting global political power struggles has most feeling less secure. And it will all have a profound effort on Christmas in the following ways:
1. The Economy – Christmas 2008 was epic. Business was historically bad. Can Christmas 2009 possibly be as bad as 2008? We say yes. The only difference between 2008 and 2009 is that this year we know it will be bad. This fact sets up nearly every other prediction we have listed below.
Update 10/06/09 >> National Retail Federation forecasts a decline in sales compared to Christmas 2008.
2. $99 Blu-Ray Players – The rush to HDTV began in earnest a couple of years ago and may plateau this year as the digital conversion in the USA should be complete by Christmas. Last Christmas saw Blu-Ray players fall below $200 for the first time and with Chinese manufacturers jumping into the pool this $99 Blu-Ray players may dominate Black Friday advertisements.
3. Fade of the Wii – Many will be tempted to blame the economy for the fall off of Nintendo's powerhouse gaming system. But tempting new gaming options from Sony and Microsoft coupled with the reality of HDTV saturation will finally see the bloom fall off the Wii rose. The Wii is available in abundance now and for the first time ever will be available at Christmas. Update 9/24/09 >> The Wall Street Journal reports that Nintendo drops the price of the Wii to $199 world-wide.
Update 10/06/09 >> Nintendo of America reports plenty of Wii game systems available for Christmas.
4. Huge boost to online purchases – The demise of several big box retailers towards the end of 2008 will continue into late 2009, contributing mightily to ongoing tepid consumer traffic for traditional "brick-and-mortar" retailers. Gone are CompUSA and Circuit City. That market share will not be picked up by either Best Buy or Walmart – it will be made up online where consumers will respond to the best free shipping options in years, rebate incentives and the better protection of credit card buying.
5. A lighter consumer-driven Christmas gives way to pining for the old days -- Christmas makes a PC Comeback in 2009. It will be "okay" to say Merry Christmas again. Intense will be the debates of whether or not retailers will use the word "Christmas" in advertisements. The lone exception will once again show in the school systems where "Winter" continues to substitute for the word "Christmas" – and folks will NOT be happy about it.
Update 10/6/09 >> Retailers pushing traditional Christmas colors and decor, abandon flashy and trendy Christmas of the past few years
6. America returns to Church – churches in the United States will start to see a surprising return to Church attendance beginning with the holiday season. More humble circumstances and sobering news on a global scale by Christmas will cause a spiritual resurgence. In spite of this, the radical atheist movement will attempt to garner publicity by claiming Christmas as their own through bill boards, web sites and ad campaigns centered on godless holiday tradition. This may become the headline event of the War on Christmas.
Update 09/27/09 >> Atheist Campaign to Hijack Christmas Starting
7. The most requested/least-anticipated gift of Christmas: guns and ammunition – insecure times call for desperate measures, fanned by political speculation of impending legislation and perceived political agendas. While iphones/ipods, HDTVs, and other assorted electronic gadgets will be as popular as ever the largest growing segment of gift sales will be in firearms and ammunition during a season where "peace on earth" is celebrated.
8. Big Christmas movie – Even though the most hyped Christmas-themed movie will be the Robert Zemekis 3-D animated version of A Christmas Carol (with Jim Carrey starring in four roles in the flick) there will not be an epic must-see-every-Christmas movie coming from Christmas 2009.
9. Internet Marries the Phone – Smartphones add the twist of more Internet interaction and it will prove to be a big hit for Christmas 2009 as more phones offer easier Twittering, Googling and paying by credit cards. These phones will also stream video and have small built-in projectors allowing one to watch captured video from the Internet on a surface larger than a phone screen.
10. Green Christmas – The War on Christmas may claim a boost as over-the-top Christmas displays in some communities will result in fines or downright closure. But the issue won't be one of religious tolerance but rather one of environmental concern. Low power lighting and artificial trees made of more environmentally safe material will be touted like never before for Christmas 2009.
Our best indication of what Christmas 2009 will be like comes from our Christmas communities and an ongoing stream of emails. And every indication so far points to a return the big family Christmas. Emphasis will be placed more on the social aspects of the event rather than the material prospects a lot of gifts under the tree represents.
We expect an upsurge in interest in homemade items and a general attitude of "less-is-more".
And that, more than anything else, will make Christmas 2009 memorable – and merry.
© 1991- - All Rights Reserved -

This article is copyrighted. Regular checks for plagarism and unauthorized use are maintained through Copyscape. Violators will be prosecuted to the fullest extent of United States and International law. Use of this article in part or whole is strictly prohibited. For reprint, quotation, or except use please contact Merry Network LLC.