Shea's Broadway Gold Special Edition CD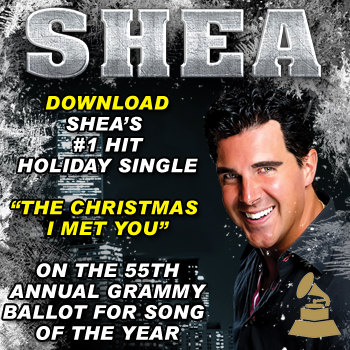 Last Christmas a little bit of history was suprisingly made on My Merry Christmas with the Christmas Top 100 voted and played on Merry Christmas Radio.

Recording artist Shea released "The Christmas I Met You", a contemporary Christmas ballad that quickly shot up the charts, hitting #1 on the Cashbox Adult/Easy Listening Chart, #3 on the Christmas Singles Chart and #61 on the Christmas Top 100.
"The Christmas I Met You" is also Grammy nominated for "Song of the Year" on the 55th Annual Grammy Awards.
By special arrangement Shea has compiled a new Christmas CD featuring "The Christmas I Met You" with eight total tracks of Christmas music for 2012 and it is available exclusively here on My Merry Christmas as a benefit to Santa's Sleigh.
Shea's compositions in the Every Day's Christmas "Broadway Gold Edition" include new 21st Century songs that blend the pleasant sounds of Easy Listening, Holiday Yuletides and R&B. It also mixes with some awesome energy from the live Broadway performances currently playing in New York, which makes it one of the most versatile holiday albums in modern history.

The new album features three amazing new bonus live songs, including:
-- "The Christmas I Met You" - Shea's #1 hit on the AC/Easy Listening Charts In 2011.
-- "Last Christmas" - SHEA's arrangement of this famous song performed live off Broadway.
-- "This Christmas" - A traditional Christmas

Get Shea's CD Exclusively through My Merry Christmas to HELP Santa's Sleigh!
This CD will be shipped with a $5 donation to Santa's Sleigh via this link:

Get an even better deal!!
Alternatively, you can donate $25 to Santa's Sleigh and receive a one year Platinum Membership to My Merry Christmas.com ($29.95 value!) and receive Shea's new CD through this button:
For bulk purchases of Shea's CD or different donation arrangements, please contact us.
Please visit Shea's iTunes page for more information.