Great Debates: Year Round Christmas Music or Seasonal Only?
By Jeff Westover -- Editor, My Merry Christmas.com
(Author Bias: I'm evenly split on this issue -- I fully support Christmas music any time of the year but I'm sad to admit I'm not a practitioner. I fear my forgetfulness makes me a weak proponent of year-round music. I personally believe the power of music is a great vehicle for conveying the true message of Christmas. And that, to me, is appropriate any time anywhere. The more the merrier, I say. And the fact that we run a year round Christmas radio station has nothing to do with it.)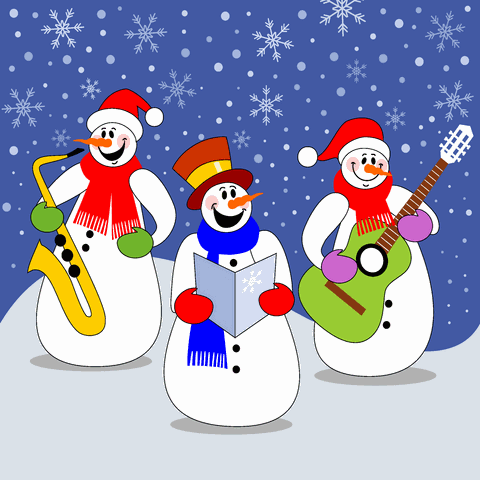 In running these Christmas websites (more than 30 now) for well over a decade I have come to know the rhythm of the seasons pretty well. Here in the dog days of summer you can bet the rumblings of Christmas are going to center on two key issues which matter little to most people: who puts out their Christmas merchandise when and the start of Christmas music on the radio.
Here locally in Utah there is a minor brou-ha-ha about a kid's radio station that starts broadcasting Christmas music on July 31. All the talking heads on the mainstream stations are dissing it. Even the weather man on local television news had to comment about it.
Maybe it is the heat. But nothing brings out the bah-humbug more than seeing or hearing Christmas while the sunscreen is still being slathered on.
"Christmas creep" is a term coined to describe the early arrival of Christmas. Those who use such language are critical of out-of-season elements. It detracts, they say, from the unique quality of the season and creates burn-out for those who can only handle Christmas in small doses.
I get their point.
But where are these people when summer swimsuit fashions debut in January? Where is the outcry at fireworks sold before Easter? Who mourns for patio furniture sold besides snow shovels at the Wal Mart each winter?
Sorry. If you're going to diss early Christmas you need to be consistent.
Besides, much of what is popular still in Christmas music is termed "classic". That means it is appropriate all the time. Like Coca Cola or Betty Crocker or Cracker Jacks. It never gets old and it never goes out of style.
For my taste, I like year round Christmas music because it allows time for greater depth in Christmas listening. There are so many classic movies and classic Christmas albums to enjoy each year that come the season we just can't get to everything. I have to watch "Miracle on 34th Street" on Thanksgiving Day. I've been doing it since I was a kid. I have to listen to "White Christmas" - by Bing, by the way, not the scores of others who record it each year - "in season".
But that doesn't mean I don't want to hear every other version. Bring on Bruce Springsteen, Quiet Riot and William Shatner singing Jingle Bells. Sounds good to me in the middle of summer.
When else are you going to get your fix of Bob Rivers or Stan Freberg? Nothing puts me more in the mood for not spending money than Green Christmas. That seems appropriate, I would think, for those who detest all that the modern Christmas stands for.
As for those who just can't handle it I have these simple suggestions:
First, don't turn it on. Yeah, baby. You've got choices. Exercise those rights, still the troubled heart and find that boring old preset playing the same old thing.
Second, use the ear buds and protest in silence by listening to all the non-Christmas standards you can handle. Its ok, we won't mind being ingored while we go dashing through the snow.
Third, find something else to blog or update your Facebook status with -- it really doesn't look good dissing Bing -- or Christmas -- any time of the year.



© 1991- - All Rights Reserved -

This article is copyrighted. Regular checks for plagarism and unauthorized use are maintained through Copyscape. Violators will be prosecuted to the fullest extent of United States and International law. Use of this article in part or whole is strictly prohibited. For reprint, quotation, or except use please contact Merry Network LLC.