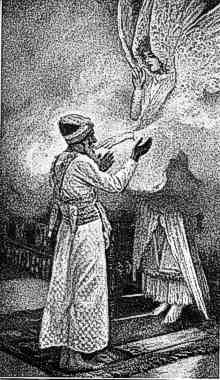 By Jeff Westover
Zacharias emerged from the altar and faced the other worshippers in the temple. As a high priest in the function he was performing that day there was an expectation by the crowd that Zacharias would address them. In fact, to the waiting crowd, the length of time Zacharias spent at the altar signaled that something of great import had happened.
But try as he might, Zacharias could not speak. The people suspected that Zacharias had had a vision. But what had transpired in that experience was Zacharias' alone to contemplate -- at least until he got home to Elisabeth.
While the New Testament does not specifically tell Elisabeth's version of events she clearly was informed in the same manner as Zacharias about what was to transpire. Socially, she hid herself away for months because she knew not how to explain her condition given her reputation as a barren old woman. But spiritually, Elisabeth basked in the glow of not only her impending motherhood but, more importantly, in the hope that this baby would bring of another who would soon follow.
~ Gabriel Comes Again ~
When Elisabeth was six months pregnant, Gabriel visited from the presence of God again -- this time to Elisabeth's cousin Mary, a young woman of probably 16 or so years of age who was promised in marriage soon to Joseph. As with Zacharias, Gabriel brought stunning news to the young Mary:
"Hail, thou that art highly favored, the Lord is with thee: blessed art thou among women...Fear not, Mary, for thou hast found favor with God. And, behold, thou shalt conceive in thy womb, and bring forth a son, and shalt call his name Jesus."
Mary, raised as she was in a household of faith, knew instantly the magnitude of this message. She knew the name "Jesus". The very name means "savior". Though it was not an uncommon Jewish name to have it revealed to her by an angel meant much more than what it would on the surface to other people in society.
What could she have felt as a bride-to-be when visited by Gabriel? What could the words from on high mean when the angel declared that Mary was "highly favored"? And who was she to be "blessed among women"?
That Mary knew of the coming Messiah, there could be no doubt. She was raised in the royal house of David and knew well the teachings concerning Him. She knew somewhere in Israel a woman would be chosen to bring that Child into the world. But did she have any suspicions prior to the angelic visitation that she would be chosen?
And, of course, how was she to deal with her beloved Joseph?
Like Elisabeth hiding herself away for so many months Mary had the burden of dealing with a special spiritual miracle in a cruel, disinterested world. In the flower of her youth, mere weeks from her wedding to Joseph, Mary had a lot of explaining to do.
Joseph was a man of royal lineage -- the same lineage as Mary -- and was recognized publicly for his patriarchal standing. He was betrothed to Mary which in those days meant a very public commitment of engagement had been made. This engagement, under the laws in which they lived, was nearly as revered as marriage itself. It set the woman aside for the man and regarded her as holy and sacred to him. In addition, Mary was the very love of his life -- she was his distant cousin -- and he had undoubtedly known her since childhood.
What was Mary to do?
It was Gabriel who planted the seed of a plan:
"And, behold, thy cousin Elisabeth, she hath conceived a son in her old age: and this is the six month with her, who was called barren. For with God, nothing shall be impossible."
If anyone could begin to understand the depth of Mary's feelings or the desperate nature of her situation, it was Elisabeth. Mary spared no time in traveling to visit her.
As she entered the house, the soon-to-be born John reacted in Elisabeth's womb. It was no secret to him or to Elisabeth about who Mary now was or why she had come to visit:
"And whence is this to me," Elisabeth said, "that the mother of my Lord should come to me?"
Face to face, these two faithful women rejoiced in their situation. They were fulfilling prophecy and they knew it. They carried in their wombs children who would change the world for countless generations. They would be front-row participants in one of the most crucial points in all of human history.