By Jeff Westover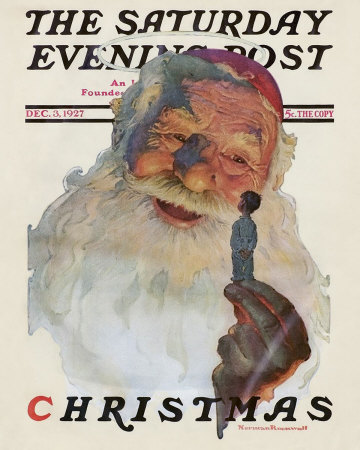 Norman Rockwell is a famous American artist whose 20th century works are cherished for their photograph-like detail and their ability to tell the common story.
In retrospect, Rockwell's work captures the essence of early 20th century living as his paintings work as snapshots of life and society of those times. The work of Norman Rockwell continues to connect with audiences because they tell the story of small town American life with wit and humor against the backdrop of a quickly changing American landscape. From the abundant excesses of the 1920s, to the depression-era drama of the 1930s to the worried patriotic images of war in the 1940s the work of Norman Rockwell mirrored what America was feeling and experiencing.
Rockwell was born in 1894 in New York City, the younger of two children of Jarvis and Nancy Rockwell. His artistic talents were evidently discovered early as he transferred from high school at age 14 into various art schools.
Rockwell's first paid job as an artist came at age 15, when he was commissioned to produce four Christmas cards.
His earliest published works were for children's publications, St. Nicholas Magazine and Boy's Life.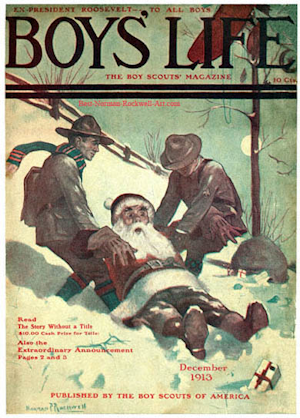 Rockwell's first Christmas cover was for an issue of Boy's Life in 1913, when Rockwell was just 19 years old. Showing Santa suffering a fall in the snow, he is, of cource, helped up by some Boy Scouts.
Rockwell's big break came when he was just 21 years of age when he took up a studio with cartoonist Clyde Forsythe, who worked for the Saturday Evening Post.
The Saturday Evening Post was published weekly in the United States from August 4, 1821 to February 8, 1969 and monthly afterward. Curtis Publishing Co., its publisher for most of that period, claimed the magazine was founded by Benjamin Franklin. However, the Post's first issue was published more than 30 years after Franklin's death in 1790.
The Post had fallen on hard times by the late Nineteenth Century. The new editor of the Post at that time, George Horace Lorimer, rebuilt the Saturday Evening Post into the premier magazine of its time. Mr Lorimer, as Norman Rockwell called him, took the Post "from a two bit family journal with a circulation in the hundreds to an influential mass magazine with a circulation in the millions."
Rockwell was fortunate enough to live at a time where the weekly publication lived nearly alone at the top of the mass media empire. Radio was king but printed media dominated the visual sphere and this was where Rockwell became a superstar.
With Forsythe's help, Rockwell nervously submitted his first cover to Lorimer in 1916, starting a relationship with the Post that would last 47 years and would lead to Rockwell's fame as America's preeminent artist of the times.
But Rockwell was young and had to earn it. Though his work quickly became the favorite of many at the Post he had yet to convince Lorimer of his greatness. For each work Rockwell submitted the idea had to be approved and the final piece needed to be presented to Lorimer himself.
The story is told of an approved idea that Rockwell worked on requiring several revisions. Titled Gramps at the Plate, an image depicting an old man swinging a baseball bat, the piece had to fit Lorimer's vision.
At the first presentation, Mr. Lorimer said the old man looked too rough and tramp like. Rockwell redid the painting. At the second presentation, the old man looked too old. Paint it again. Next, the kid was too small. Paint it again. The painting, Gramps at the Plate, was redone a total of five times. Lorimer said the process was a test for Rockwell and Rockwell later commented that he nearly failed that test.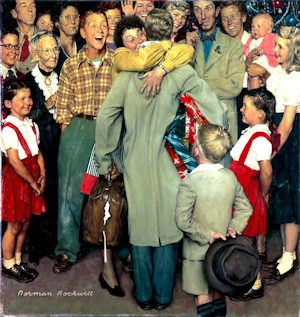 Rockwell painted more than 30 Christmas themed covers for the Post in the course of his career and more than 70 of his most famous works address Christmas themes.
Rockwell's critics were quick to label his work too heavily sentimental or sometimes lacking in a substantive message. His Christmas works especially are criticized as emphasizing Santa Claus too much and not emphasizing the Christ Child at all. But just as his famous series "The Four Freedoms" are not about World War II, Rockwell's Christmas work isn't about Christmas -- it is about experiencing Christmas.
Like most of his works Rockwell steered clear of moralizing his Christmas images, focusing instead on humor and the family experience of Christmas together.
Rockwell had a knack for weaving personal elements in some of his most famous Christmas works. The 1948 Christmas cover of the Post is titled "Christmas Homecoming", telling the story so familiar to families who had spent several Christmas seasons separated from loved ones during the war. In the painting are the faces of Rockwell's children, wife, a neighbor and even a co-worker from the Post.
Rockwell, who died in 1978, lives on through the merchandising of his works in the form of calendars, prints, and all manner of giftware.