By Louise Broadaway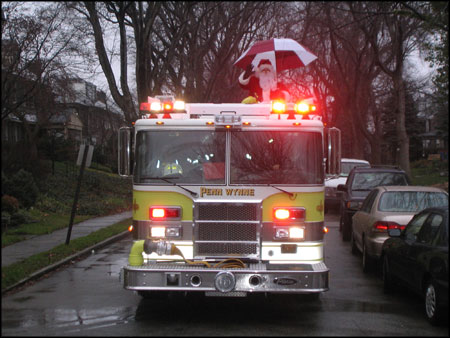 When I look back on the Christmases past, especially during my childhood, we never had the big family gatherings and hoopla that many others talk about. Our Christmas was the intimacy of our own family -- just my mom and dad and myself celebrating on Christmas Eve the arrival of Santa.
Christmas Day we went to church. The arrival of Santa was quite unique however as we would retire early to bed, as he would not stop by until you were fast asleep. Some hours into our sleep we would be awakened by the sound of sirens and a very loud and deep voice spouting "HO, HO, HO, Merry Christmas!"
We would jump from our beds and run to the window where we could catch a glimpse of the large man himself Santa Claus -- in all his glory riding atop a bright red fire truck with spotlights spinning around and one, of course, on Santa. I could see from the window a large cloth bag sitting in the snow on the sidewalk under the streetlight. It wore a large red bow on top that only meant one thing to me. Santa had dropped off that bag for us!
Quickly, we grabbed our boots and coats, right out there we went in our pajamas and overcoats to see what Santa had brought. If you could get out there fast enough you could even wave goodbye to him as he drove off down the street. To me, that was as important as the gifts themselves just to see and hear him on his megaphone "HO, HO, HO, Merrrrry Christmas!"
It would be a struggle to get the big bag up the snow filled walk up to the front door. But we didn't seem to mind (my dad did most of the hauling) and the cold was not a bother either as we stood outside waving until he was out of sight.
We would then empty the bag out onto the floor by the well-adorned Christmas tree and open the gifts one by one cherishing that precious moment that comes only once a year.
I would like to submit this story as a tribute to the many firemen who lost their lives in the recent events in New York City and as a "Thank you" to the De Cou Fire Department in Trenton, New Jersey, without whom this memory would not have been possible.