By Julie Dacus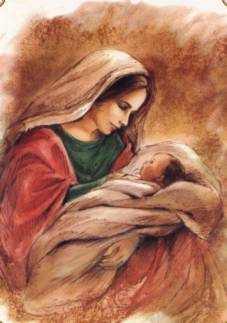 It was the Christmas after my oldest son, Will, was born, the Christmas of 1995. That year had been a hectic one, with our son being born in May, and all of the adjustments to parenthood that followed. My husband and I were quite excited about Christmas with Will. We decorated and shopped and wrapped and totally enjoyed preparing for Christmas.
Of course, Will, being only seven months old, didn't quite share our enthusiasm. He was a good sport, though, and submitted to being dressed up and photographed and toted around. Christmas was fun that year, but it didn't become memorable until we went to Midnight Mass on Christmas Eve.
We sat down, proud parents of a sleeping infant. We checked out the crowd, sure that no other baby was as perfect as ours. We were in church to show off, and show off we did. Then the priest began reading the Gospel. The story of Christmas. A story I had heard and loved all of my life.
But this time was different.
This time, I winced at the thought of a pregnant Mary riding a donkey across the desert. I felt her aching back and sore tummy. I glanced at my husband as Joseph was denied over and over a place to let his uncomforable wife rest. I sighed in relief as the innkeeper's wife offered the stable. I grinned as the angels proclaimed the birth of Christ. I felt the insecurity of the shepherds as they heard the news.
And tears ran down my face as I understood how Mary felt as she held her baby boy. I knew her complete love. As I looked at my own sleeping baby, I felt the absolute wonder of Christmas.
Our family has grown since that Christmas seven years ago. There are now four little ones running around our house. December is still dedicated to Santa and shopping and decorating and baking and all of the seasonal craziness.
Christmas itself is different, though. Now it's everyday. Christmas is birth and life and love. It's babies and kids and parents. It's toys and baths and books. I know the reality of Christmas when I hold my babies, when I tend to a boo boo, when I help with homework. Mary and Joseph did all of this. Jesus was a kid. That's the reality of Christmas. That is the joy I carry in my heart.
The birth of Jesus was God's ultimate gift to mankind. This glimmer of insight is God's gift to me. I just hope I can accept and use this gift as God wishes.
That was my most memorable Christmas. I hear the story of Jesus' birth at Christmas very differently now. Sometimes I don't get to hear the Gospel at Midnight Mass because of bathroom emergencies or loud cry rooms. But I know how it goes, and I understand a little better now. I try to live up to the gift of Christmas every day.