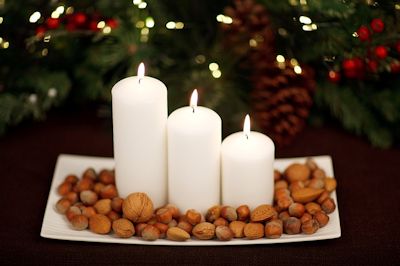 Christmas is the most materialistic season of the year and uses a huge amount of unrecyclable energy and materials. As wonderful as it is, Christmas simply isn't sustainable. If you try to live a reasonably ethical lifestyle here are some ways to enjoy an eco-friendly Christmas.
It's very easy to buy all your presents from the gift section at your local department store but you can actually purchase gifts that are more personal and desirable elsewhere. Look to your local craft and farmer's market for gifts that are fair trade, homemade and ethical. You could consider food hampers with local produce or buying craft materials to make your own presents. Over the festival period charity shops offer a variety of Christmas-themed gift ideas. By purchasing items from charity shops you could provide much needed relief for some of the poorest communities in the world.
Christmas decorations are fairly expensive, mass produced and use a huge amount of electricity. There are a number of ways to ensure your Christmas decorations are eco-friendly. Real Christmas trees are available to purchase in most cities so you can purposely choose a real tree rather than surfacing your artificial tree from the loft. You can also use dried berries and ivy to decorate your mantelpiece instead of tinsel. Lights are a huge part of our yearly
Christmas decorations
and are something people are reluctant to miss out on. They don't have to be as economically unfriendly as some people might think however, there are a variety of low energy options including battery operated lights and low voltage bulbs.
Christmas is the busiest period for the postal service and I bet you can guess why. Tonnes and tonnes of paper is used every festive season to produce hundreds of thousands of Christmas cards and wrapping paper rolls. Thankfully these materials are recyclable and charities such as
The Woodland Trust
arrange recycling schemes at your local supermarkets. Another couple of ideas are to wrap your kids' presents in newspaper (will they really care?) and to get your kids to make their own Christmas cards or use family photos as Christmas postcards.
So there you have it, having an eco-friendly Christmas doesn't mean you have to be Scrooge-like. A few simple changes to your festive routine can mean all the difference.
Do you have any tips for ensuring an eco-friendly Christmas? Let us know in the comment section below.