By Mary Hansel
MMC Associate Editor,
Christmas Foods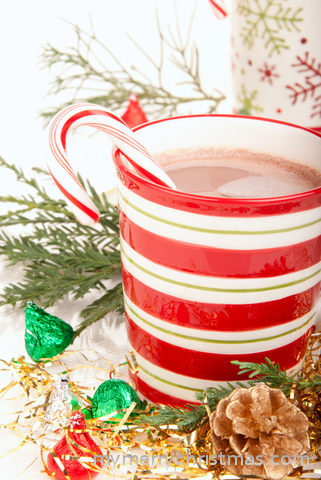 The nights are getting cooler here in Mid-Michigan and the 'bers, as the final four months of the year are affectionately called, are here. Yesterday was a home varsity football game for my hometown. Although we won the game, it was a chilly night out and a trip to the concession stand for something hot to drink was in order. One of the drinks offered at the concession stand was hot chocolate, which many people consider to be one of the first harbingers of the winter season.
In many countries hot chocolate is not just a cold weather drink as it is closely associated with Advent and Christmas traditions. In the Philippines, for example, hot cocoa is the drink served during the traditional Christmas feast after Christ's Mass. After Midnight Mass on Christmas Eve in Switzerland, hot chocolate is served along with homemade donuts, known as ringli. Children in Denmark eat cookies instead of donuts with their hot chocolate drink during Christmas Eve. Today, there are several blog posts on the internet that mention the Advent activities of making hot cocoa mix gifts to drinking hot cocoa by the fireplace - a way the bloggers have made the hot chocolate tradition of their ancestors their own family tradition.
Hot cocoa or hot chocolate? Although they are not the same drink, people tend to use the names interchangeably. The hot "chocolate" at the concession stand at the football game, for example, was made from a bulk powdered mix that had corn syrup as an ingredient. Being a chocoholic, I will drink that when it is the only available option, but I really prefer to make my own drink as I control what ingredients are used. Depending on who else wants a cup, I make either hot chocolate or hot cocoa - the choice is all a matter of taste.
Cocoa is produced from the kernel of a cacao bean. The cacao bean is found in the fruit of the cacao tree, Theobroma (meaning food of the gods) cacao. This evergreen tree grows in Central America, South America, West Africa and parts of Asia. The fruit of the tree, called a cacao pod, can contain between twenty to forty beans each. To make two pounds of cocoa takes up to twenty-five pods. One tree can average up to forty pods in a year.
Based on where the cacao tree grows, it is not surprising that the first drink made with cocoa, which was not all that similar to the hot cocoa or hot chocolate we drink today, was created by the Mayans over 2000 years ago. That drink was made of cacao beans ground into a paste mixed with water. Additional ingredients added were cornmeal and chili peppers. The Mayans would pour the drink back and forth between two vessels until it was frothy. That chocolate beverage was very popular among the Mayans. They even had a god, Ykchaua, who was the patron of cocoa merchants.
By the fifteenth century, cocoa became an essential part of Aztec culture. In the Aztecan hierarchy of gods, one of the top three gods is the god of agriculture, Quetzalcoatl. Aztecs believed Quetzalcoatl to have carried the cacao tree to them, bringing wisdom and power. A Franciscan friar, Bernardino de Sahagún, wrote in his "La Historia General de las Cosas de Nueva Espana", also known as the Florentine Codex, that chocolate was a drink of Aztecan nobles. The Aztecs' chocolate drink, xocolatl, was similar to the Mayans' drink with the addition of vanilla and achiote, used as a flavoring, made from achiote seeds. Achiote seeds are familiar to us as they are the source of annatto, a colorant that is used to color foods, including margarine and popcorn.
Chocolate beverages were first introduced to Europeans by Montezuma, the ninth ruler of the Aztecs, who reportedly drank upwards of fifty cups a day. Montezuma gave the drink to Hernán Cortés, the Spanish conquistador who, ironically, led the expedition that led to the downfall of the Aztecan Empire. Cortés carried cacao beans and the paraphernalia to make xocolatl back to his country, Spain.
The European nobility was the only ones able to have chocolate beverages for several reasons. The main reasons were that the drink recipe was kept secret and cacao beans were not available in Europe. Cocoa beverages were a prestigious drink. So much so, that the court of King Charles the V were avid chocolate drinkers. The drink was even given as a dowry when Spanish royalty married European aristocrats.
Europeans made a dramatic improvement over the Aztecan and Mayan versions of the beverage. Gone was the chili pepper flavoring and in was sugar and cinnamon. Vanilla was still kept as a flavoring and sweetener. Europeans added something important to the evolution of the beverage, they drank it hot.
Not until the early 1600s were commoners able to enjoy cocoa. A traveler by the name of Carletti carried cacao beans with him and people all across Europe were finally able to enjoy the drink. It was such a popular drink that in 1657, the first Chocolate House, similar to coffee shops of today, was opened.
By the late seventeenth century, the chocolate drink most of us prefer came into being. That is when the president of the Royal College of Physicians and personal physician to Queen Anne, Sir Hans Sloane, was in Jamaica. He drank the chocolate drink Jamaicans made with water and found it to be horrible tasting. He concocted a way to make the drink with milk and history was made.
Not only was chocolate considered a delicious drink, it was thought to have health benefits, too. Years ago, it was believed that cocoa helped with digestion and could be used to treat a fever. Those healers were on to something as it has been shown that cocoa is rich in antioxidants. Antioxidants are thought to help reduce the risks of cancer and slow down macular degeneration that is brought on by age. Dutch processed cocoa, which is cocoa with lower acidity, and bar chocolate, which is higher in fat, have fewer antioxidants than natural cocoa. Natural cocoa contains higher amounts of antioxidants than either wine or tea.
For those of you concerned about the amount of caffeine in hot chocolate/cocoa there is good news. Hot chocolate/cocoa contains only nine mgs of caffeine per eight ounce cup. Coffee, on the other hand, contains upwards of fourteen times that amount of caffeine.
If there is a good sale going on, do stock up on cocoa. Powdered cocoa has a very long shelf life. I found that out accidentally when I found a canister I had bought several years ago way in back of my baking cupboard. It had been opened and the only problem was that the cocoa had clumped. I pressed the cocoa through a sieve before measuring it out for the recipe I was making and the problem was solved. Store the cocoa in the canister it came in, in a cool, dry place. It should last quite a few years as the cocoa butter has been removed.
Bar chocolate on the other hand, does have an expiration date that should be taken into consideration for a very good reason - it dries out. The box I had been using had a very good expiration date on it and the package was still sealed, so I'm not sure what exactly happened, but I could not get the chocolate to melt and so it was useless. Based on that experience, I recommend that if you are using bar chocolate, get the latest expiration date you can find and be prepared to use it up within a year. Bar chocolate has the cocoa butter in it still, but does not have to be stored in the refrigerator. Do keep it tightly sealed for the best quality.
I have seen melted chocolate packets in the baking aisle of my local grocery store. After reading the ingredients, I decided it would be healthier if I made my own using a substitute. Making a substitute for melted bar chocolate is very easy. All it takes is three tablespoons of cocoa, leveled off, and one tablespoon of oil or shortening. I always use canola oil in my substitute as it is low in saturated fat. When you make the substitute, mix well so that all the cocoa powder is smoothly incorporated into the oil.
Here are the recipes I use for hot cocoa and hot chocolate. I use a sugar substitute, two percent milk, and top with homemade whipped cream without sugar. Delicious!
Hot Cocoa
Makes 4 cups
1/3 cup sugar (or sugar substitute)
3 tablespoons unsweetened cocoa
Dash salt
½ cup hot water
3 cups milk, preferably two percent or whole
Combine the first four ingredients in a saucepan and simmer for two minutes. Add the milk and heat through. Beat until frothy and serve.
Hot Chocolate
Makes 4 cups
2 squares unsweetened chocolate
1 cup water
Dash of salt
3 tablespoons sugar (or sugar substitute)
3 cups milk, preferably two percent or whole
Combine water and chocolate in a saucepan over low heat and stir constantly until chocolate is melted. Add sugar and salt and stir to combine. Simmer for four minutes, stirring. Stir in the milk and heat through, but do not boil. Top with whipped cream.
There are so many variations you could make with either drink. Varying the type of milk, using different brands of cocoa and bar chocolate, adding flavored coffee creamers, using stirring sticks such as peppermint or cinnamon to adding different extracts will alter the taste. One of my favorite add-ins is orange peel. There is something about the taste of orange and chocolate that I love! Let your imagination soar!
I do like to experiment when I cook and one of the ideas I have been toying with lately is that of making a coffee-flavored cocoa. There are several recipes available on the internet, but I want to make my own version. I have instant coffee that I use in an emergency, but what I really need to make this drink special is some espresso powder. Mixing just enough espresso powder into the water of either of the above recipes and making the drink as written and a most delicious beverage with a major kick will surely be had!
Fancy hot cocoas/chocolates aside, my absolute favorite chocolate beverage is the basic recipe for hot cocoa. I usually have the ingredients on hand and it is easy to make. Why hot cocoa is my favorite drink is because it is the one my mom used to make. When I hold a hot mug of freshly made cocoa in my hand, not only am I warmed on the outside, I am warmed on the inside, too, as it brings back memories of years gone by: holidays, especially Christmas and when we decorated the tree, family and love. I think it might be the perfect drink!