By B. Francis Morlan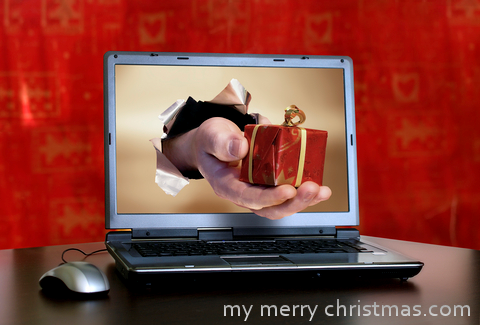 There is a romantic notion many have about Christmas shopping. It centers around the thought that it can actually be fun.
A mind fills with images of snow-covered streets with the sound of jingling bells in the air as snow softly falls on the light-covered trees between the buildings with magical windows dressed in holiday merriment. In such a world every gift buy is magical, affordable, pre-wrapped and easily transported to the car.
I never seem to find such shopping.
In my world that snow is a blizzard, the streets are covered in ice, the only sounds in the air are crying babies and almost nothing is affordable. In my Christmas shopping world the only potential magic of Christmas gift giving comes on Christmas morning when the gift receiver is actually pleased – and sometimes that happens. But getting there can be a royal pain.
Isn't there a better way?
There is. For me, I've found Christmas shopping utopia online.
There are no lines, there are deals to be had and they bring the stuff to me. Often, when the UPS guy comes, I'm still in my jammies. (And unlike the picturesque scenario spelled out in the first paragraph this is a true story and in my book jammies are far more Christmasy than falling snow any day of the week).
Christmas shopping online has arrived. It is safe, secure, inexpensive and frequently better than shuffling off to the neighborhood mall. It does, however, require advanced planning and savvy selection skills – just like "real" Christmas shopping.
Here are the essentials to Christmas shopping online:
1.
Shop early
– if there is a downfall to shopping online it has to be for the last minute shopper. After all, if you live in San Diego and order from a retailer based in Montreal all the deals in the world won't get your stuff to you if you order on December 22nd. So get going right away.
Fortunately, shopping is free until you pull out your credit card. Don't wait until even Thanksgiving to consider shopping for Christmas. In fact, make it a habit of Labor Day weekend to start making your lists and start clicking online.
Starting to so early gets you used to the layout of each online retailer. Not all are created equally. Knowing their selection and their pricing in pre-holiday mode will also aid you in knowing what is a good deal when the time comes to actually make a purchase.
2.
Know your credit card
– Cash is king offline but online you have to have a credit card and a good one. Yes, debit cards can be used and even checking accounts. But credit cards often offer incentives and buyer protection when used online. A sales price is sweeter if you get a couple of percentage points back for every purchase you make or you pick up a few airline miles in the process of making your Christmas buys.
A credit card also gives you leverage if you get into a dispute with an online retailer. They don't want a chargeback and will often offer you better options in a deal gone wrong just to avoid extra shipping costs and credit reversals.
3.
If you want a better deal, ask
– Competition online is fierce, often even more competitive than what offline retailers experience. If you can show a cheaper price somewhere else or a better deal on shipping many retailers will match or better what their competitors are offering. But you have to ask for it. Get used to either getting on the phone or using customer service chat interfaces to get what you want.
4.
Know what's hot and what's not
– The power of community on the Internet has never been stronger. Just post a link to a sweater or a gift item on Facebook to all your friends and you'll get a variety of opinions and the benefit of what other eyes out there have seen. Use those resources – they will help more often than not.
More importantly, they will help you learn what is hot-or-not in what you're shopping for. You'll find new options for buying or different ideas to consider.
5.
Learn the online sales calendar
– Black Friday is even better online because it starts earlier, lasts longer and makes the super-deals even more possible than getting up in the dead of night the day after Thanksgiving. Amazon, the Queen Mother of online shopping, has already announced that Black Friday for them begins the Monday before Thanksgiving.
Better yet is the online version of Black Friday known as Cyber Monday. This is the Monday following Thanksgiving and it is the peak of online offers during the Christmas season. If you still have Christmas shopping to do the week after Thanksgiving is the time to do it. Why? Because retailers will fight for your dollar more than week than any other. As the calendar creeps to December 10th they know that those still shopping have to buy – so the deals dry up and the shipping options get more expensive as the days count down to Christmas.
6.
October is your best friend
– what is true for offline retailers is true for online retailers as well: October sucks for them. Back-to-School shopping has ended and because of Halloween the Christmas shopping hasn't really started. October is a time to clear out the old summer stock to make room for the piles of Christmas merchandise on order. And they need to clear it out fast.
That makes October an exceptional time for online shopping bargains – especially for items such as electronics, who turn their new model year over each fall. There usually isn't a lot of difference between a DVD player sold in January than one brought in for Christmas – except for the price of that unit in October.
Christmas shopping in our day of convenience has restored the romance of Christmas shopping. My family is used to me now running to the door to greet the delivery drivers.
I usually have a harder time these days stashing my Christmas gifts than trying to shop for them. And it is a much better problem to have.