By Brad Wilcox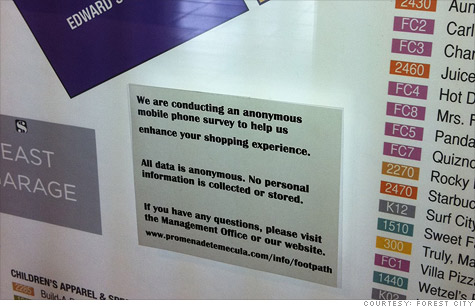 New concerns over privacy for Christmas shoppers have been raised as a test is implemented at a mall in Southern California and at a mall in Virginia that will use cell phone tracking technology to monitor shopper's movements between Black Friday and the end of December.
According to CNN, a system sold by FootPath Technologies involving a series of antennas strategically placed in malls and stores will tap into mobile devices seeking out a unique identifier and then tracking where it goes.
The idea behind the system is to better evaluate why shoppers go to one store over another, how long they stay in one store and where they go after stopping in a location. While no personally identifiable information is gathered it is considered the next level in retailer information grabbing technology.
The idea isn't a new one. Grocery stores utilize club cards to track transactions and buying patterns, often using the information to serve up coupons and advertisements good for future purchases. Malls have long used security cameras and even undercover shopper trackers who follow shoppers along and take notes.
The cell phone tracking system still remains light years behind tracking technology used on Internet shopping venues. Almost every website knows your location at a minumum and evaluates what links you click, what size ads you respond to, what price points you prefer, what shipping options you select and a variety sensitive information right down to your shoe size depending upon what you purchase. Frequently they couple this information with your name, address, phone number and other vital stats all to engineer data designed to make you respond when you are on a website.
Privacy experts have become increasingly critical of large cell phone manufactures, such as Apple, after exploits have exposed large groups of cell phone user data to spammers. Last year, hackers hit AT&T, exposing the unique ID numbers and e-mail addresses of more than 100,000 iPad 3G owners. To make it harder for hackers to get at this information, Path Intelligence scrambles those numbers twice.
Shoppers will never get around the stalking they are exposed to in their shopping. As the sign at the test malls in America fail to say, if you don't like it don't take your cell phone with you inside the mall. There is a fat chance of that happening.
In fact, for the first time, tracking of purchases made this holiday season via cell phone or other mobile devices is being included in evaluation data of seasonal sales. The iPad and Amazon's Kindle, as well as a large variety of cell phones, make physical purchases possible and efficient with just a few clicks on a mobile device. You can bet that information is collected and analyzed better than any other.
Black Friday 2011 has already proven itself to be more cutthroat than normal.
This is to be expected in a rough economic cycle where an adundance of competition surfaces as retailers vie for dominance. But there are plenty of scammers out there who lie in wait and the Better Business Bureau is issuing warnings and advice.
"Holiday shopping will send consumers to stores and online retailers in droves following the Thanksgiving holiday. But there are risks to be avoided," said Steve J. Bernas, president & CEO of the Better Business Bureau serving Chicago and northern Illinois. "Whether you are online or in a store consumers should take steps to protect themselves."
Tips for Black Friday shoppers:
Research before you shop - If you find a great coupon, be sure to print it and bring it to the store with you. Check out Business Reviews at
www.bbb.org
to make sure you are dealing with a reputable business that will guarantee the sale prices they claim to have.
Know Store Policies - Knowing the store policies on returns can help you determine where to buy. Many retailers may include restocking fees and shorter return deadlines.
Ask for Gift Receipts - Gift receipts generally include a description of the item purchased but do not disclose the price paid. Without proof-of-purchase, the recipient may be turned down for returning or exchanging the item or risk receiving an exchange for the current selling price of the item.
Online shopping tips for Cyber Monday:
Shop on trustworthy websites - Shoppers should start with the BBB to check on the seller's Business Review for customer satisfaction at
www.bbb.org
Always look for the BBB seal and other widely-recognized "trustmarks" on retailer websites and click on the seals to confirm that they are valid.
Protect your personal information - Take time to read the site's privacy policy and understand what personal information is being requested and how it will be used. If there isn't one posted, it should be taken as a red flag that personal information may be sold to others without permission.
Beware of deals that sound too good to be true - Offers on websites and in unsolicited e-mails can often sound too good to be true, especially extremely low prices on hard-to-get items. Consumers should always go with their instincts and not be afraid to pass up a "deal" that might cost them dearly in the end.
Confirm your online purchase is secure - Shoppers should always look in the address box for the "s" in https:// and in the lower-right corner for the "lock" symbol before paying. If there are any doubts about a site, the BBB recommends right-clicking anywhere on the page and select "Properties." This will let you see the real URL (website address) and the dialog box will reveal if the site is not encrypted.
Pay with a credit card - It's best to use a credit card, because under Federal law, the shopper can dispute the charges if he or she doesn't receive the item. Shoppers also have dispute rights if there are unauthorized charges on their credit card, and many card issuers have "zero liability" policies under which the card holder pays nothing if someone steals the credit card number and uses it.
Keep documentation of your order - After completing the online order process, there may be a final confirmation page or the shopper might receive confirmation by e-mail. The BBB recommends saving a copy of the Web page and any e-mails for future reference and as a record of the purchase.